I found it very sad to say goodbye to Indonesia, but had to admit, in many ways, it was a welcome change to be back on Australian soil.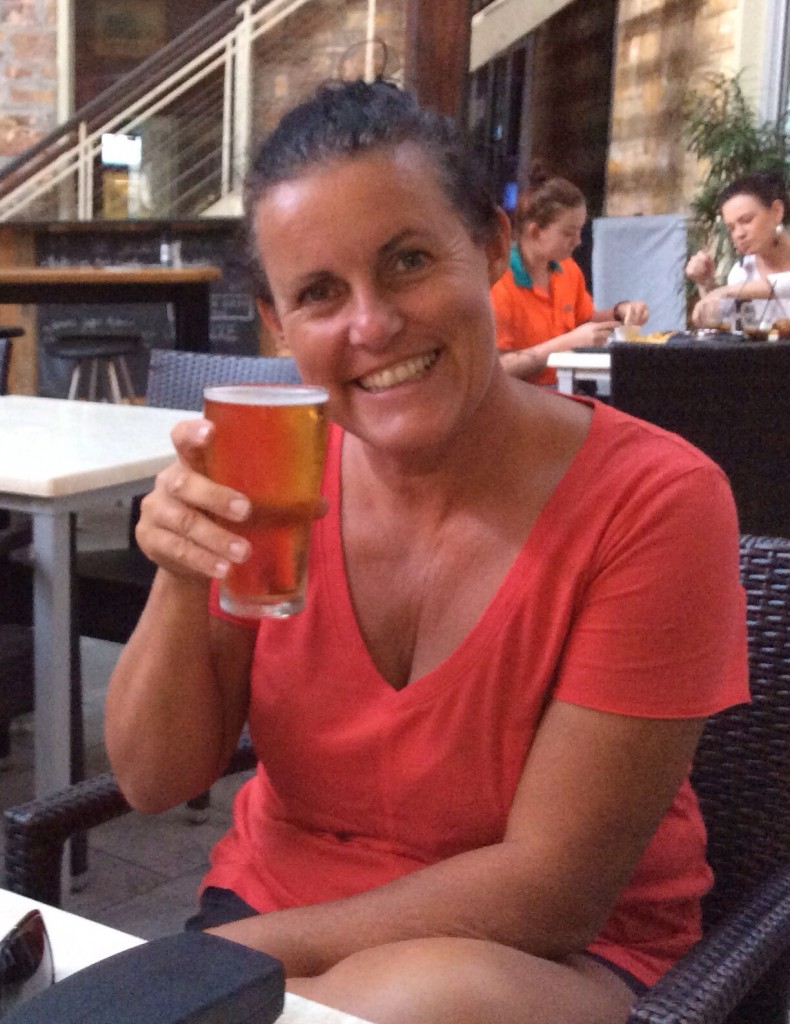 I no longer have to struggle communicating with my smattering of Bahasa and google translate, and I took great delight in wandering around Coles drooling over the range of bacon, ham and cheeses, my purse no longer stuffed full of thousands and millions of rupiah, but nice clean crisp waterproof Australian dollars where I could buy lovely red wine and gin by the litre without feeling bankrupt – welcome to Australia!
This was my first time in the Northern Territory, but not for Daryl who has lived here before and wanted to show me around.  He hired a car and spent a day giving me a tour of the finest outlets of motor spares the state could offer.  Joking aside, we did have a considerable amount of boat maintenance to catch up on and Daryl was in seventh heaven with the retail range available to him having been in Asia for so long.  I helped him change the oil in both the engines,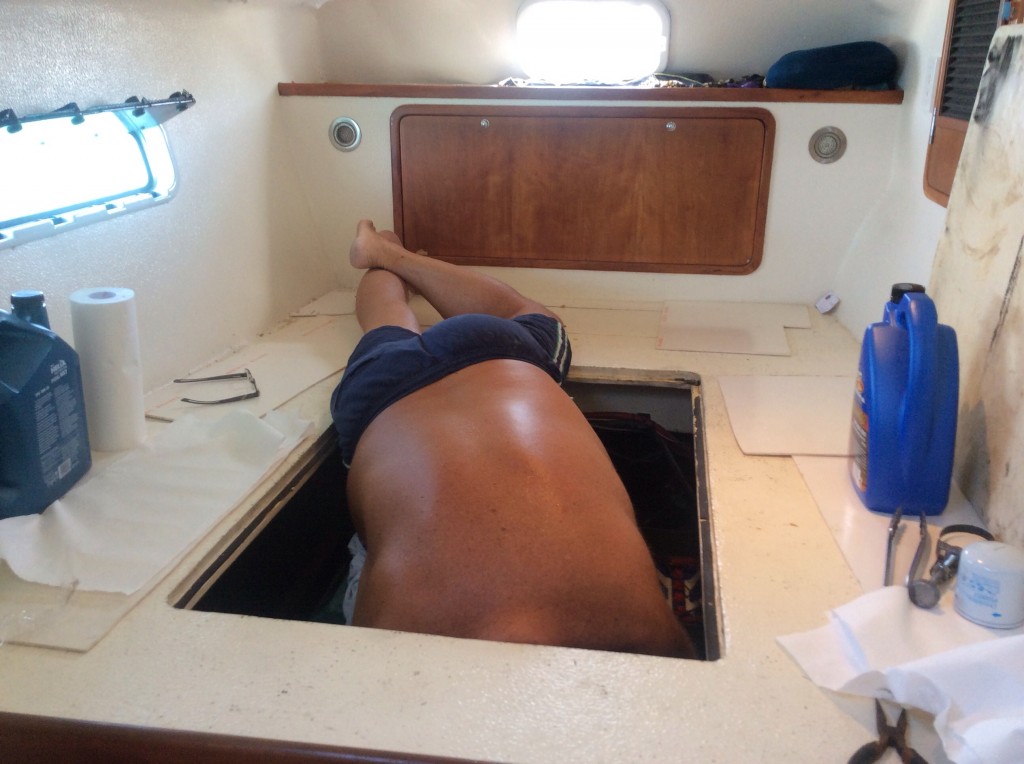 did some tidying up and was rewarded with a tour of the area and lunch and a beer in the "Humpty Doo Hotel" – yes, that is really the name, sweet eh!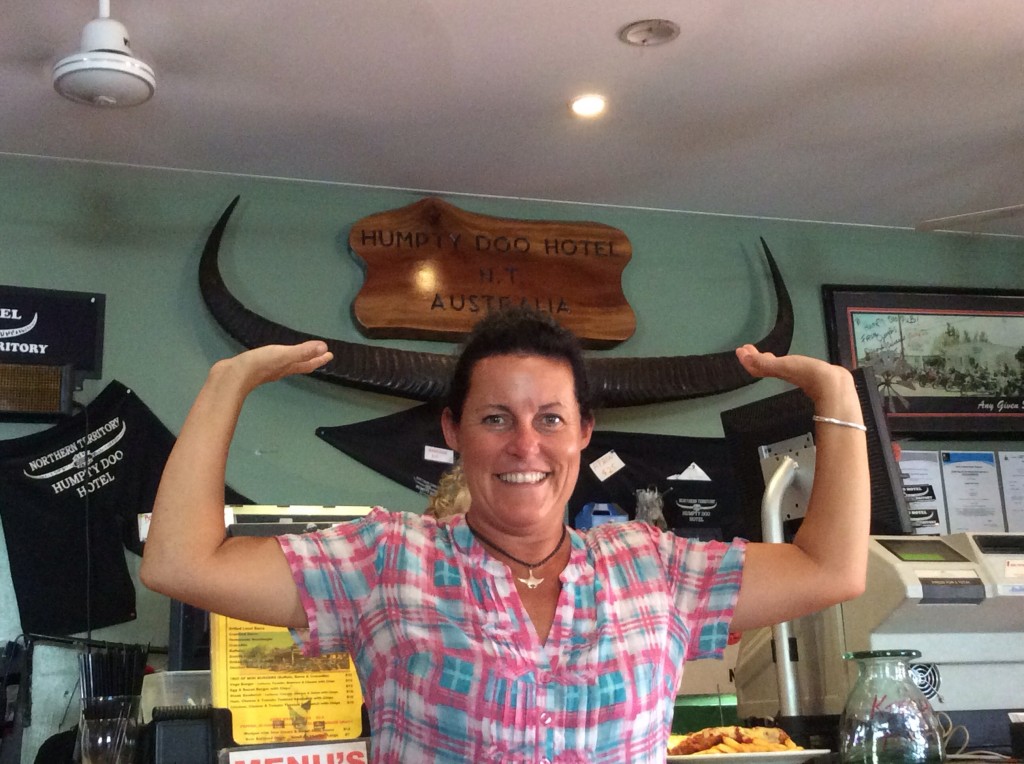 This place seemed to hold many fond memories for Daryl, he has clearly spent some special moments here eating crocodile burgers and watching the local Hells Angels gangs meet up and compare bikes.  I enjoyed my croc burger and checked out the local talent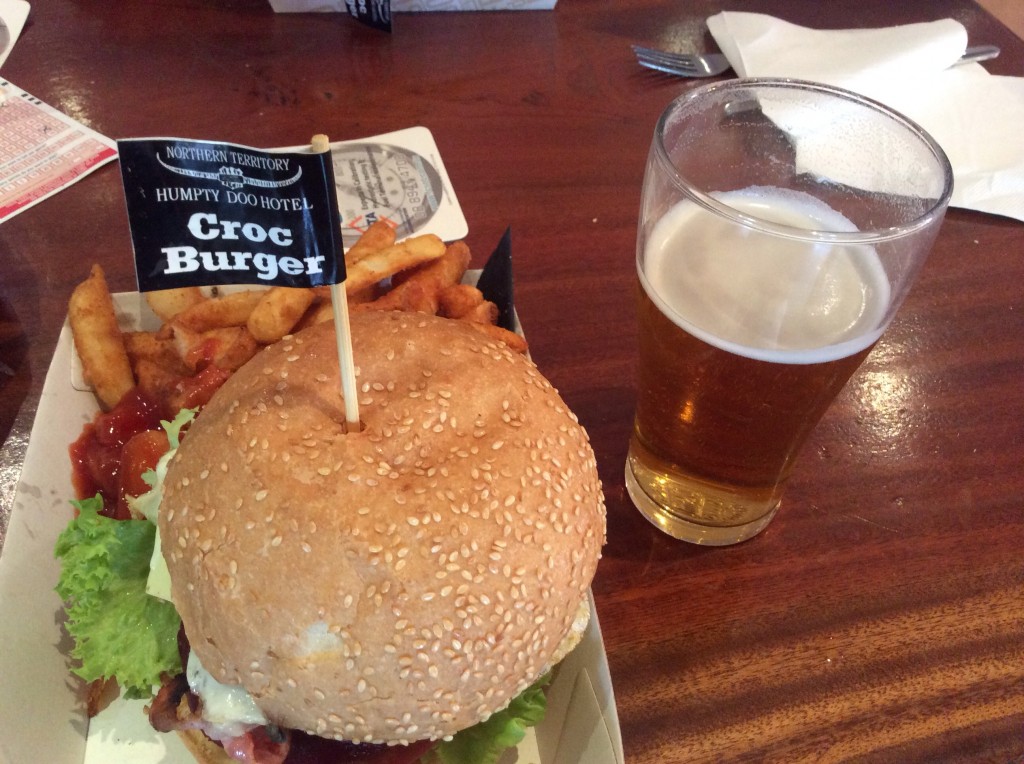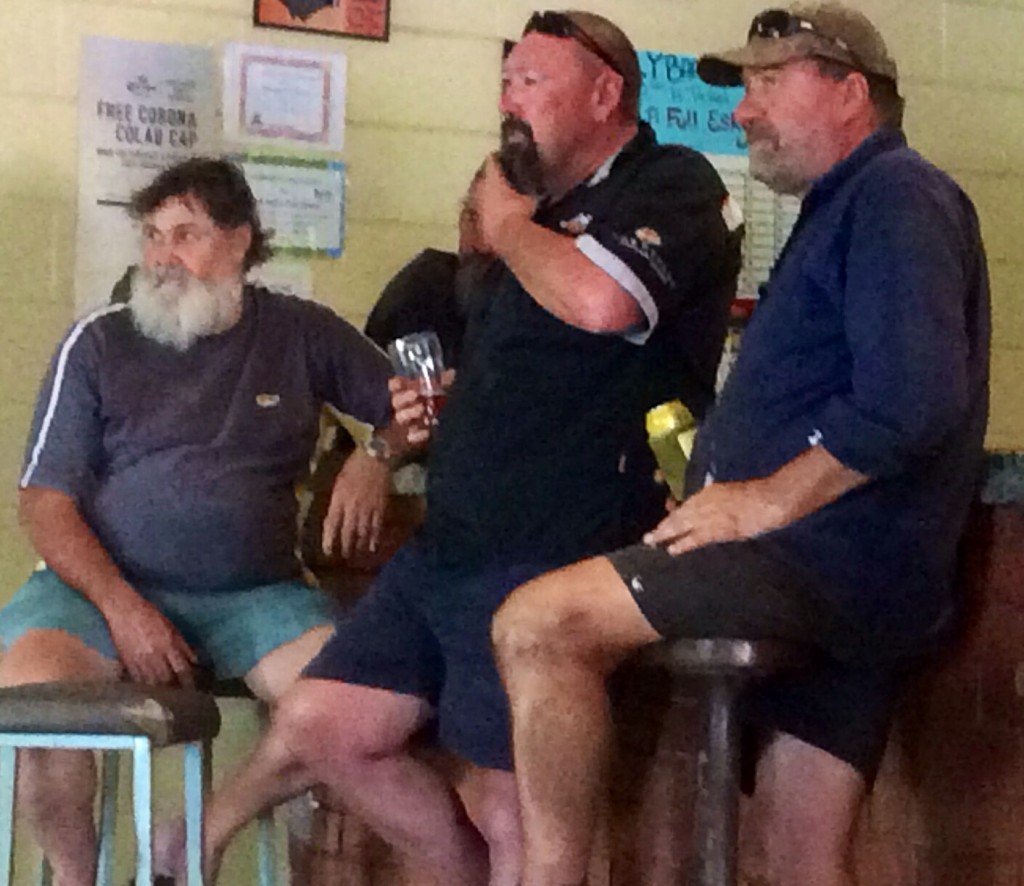 My dear "Dive Goddess" friend Sonya asked me "What do you call a sexy man in Darwin" The answer of course is "A Visitor"!! Cheers for that Sonya, think you might be right!
Classy folk in NT
This was dry season in The Northern Territory, and still enjoyable temperatures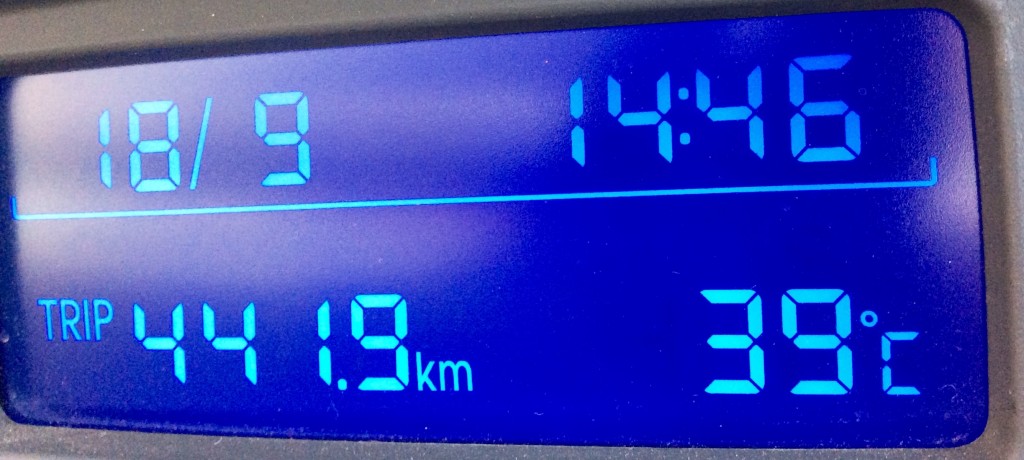 Residents of the Northern Territory are often known simply as 'Territorians', or more informally as 'Top Enders' and 'Centralians'.  Its a tough place in many ways, not somewhere I would choose to make my home, but I was keen to explore the local countryside. The Northern Territory is massive, covering an area of over 1,349,129 square kilometres (five times the size of Great Britain), yet it has a sparse population of 233,300,  (less than the population of Wolverhampton!)
The Territory is home to 400 species of birds, 150 mammals, 300 reptiles, 50 frogs, 60 species of freshwater fish and several hundred species of marine fish and of course some of the scariest creatures on this earth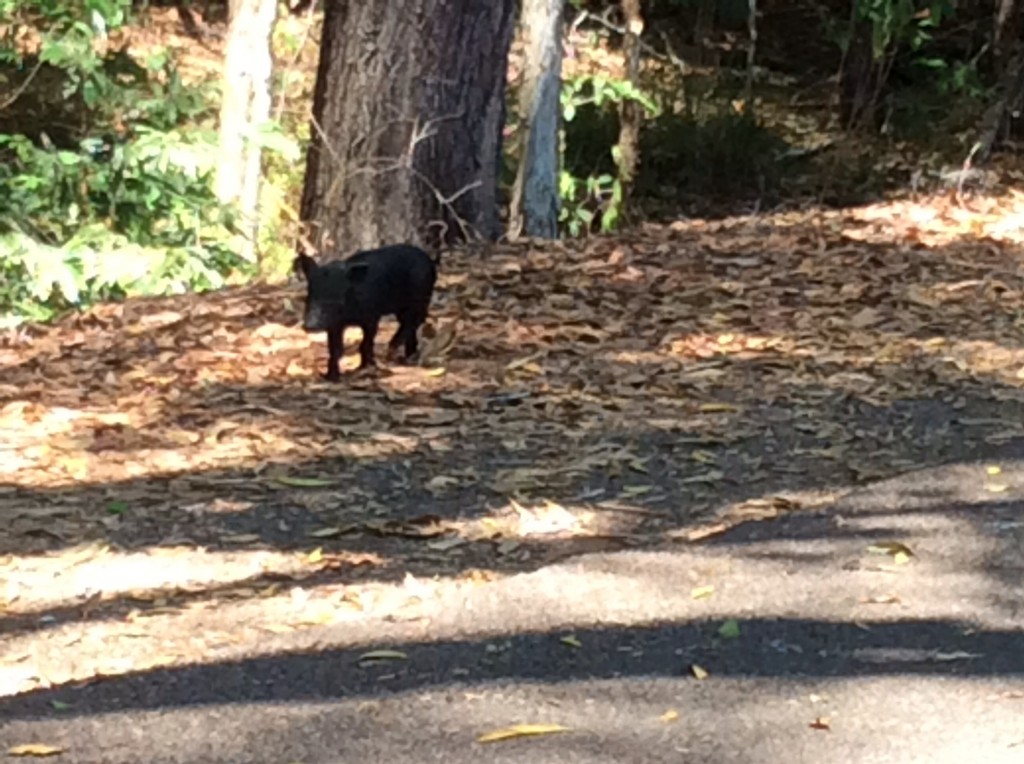 Crocodiles, the most famous of the Territory's creatures, can be seen in most rivers and billabongs in the Top End or at the wildlife parks around Darwin. There is almost a one-to-one ratio of crocs to humans in the North, a sobering thought as you travel through.
There are many very small settlements scattered across the territory, but the larger population centers are located on the single paved road that links Darwin to southern Australia, the "Stuart Highway" known to locals simply as "the track"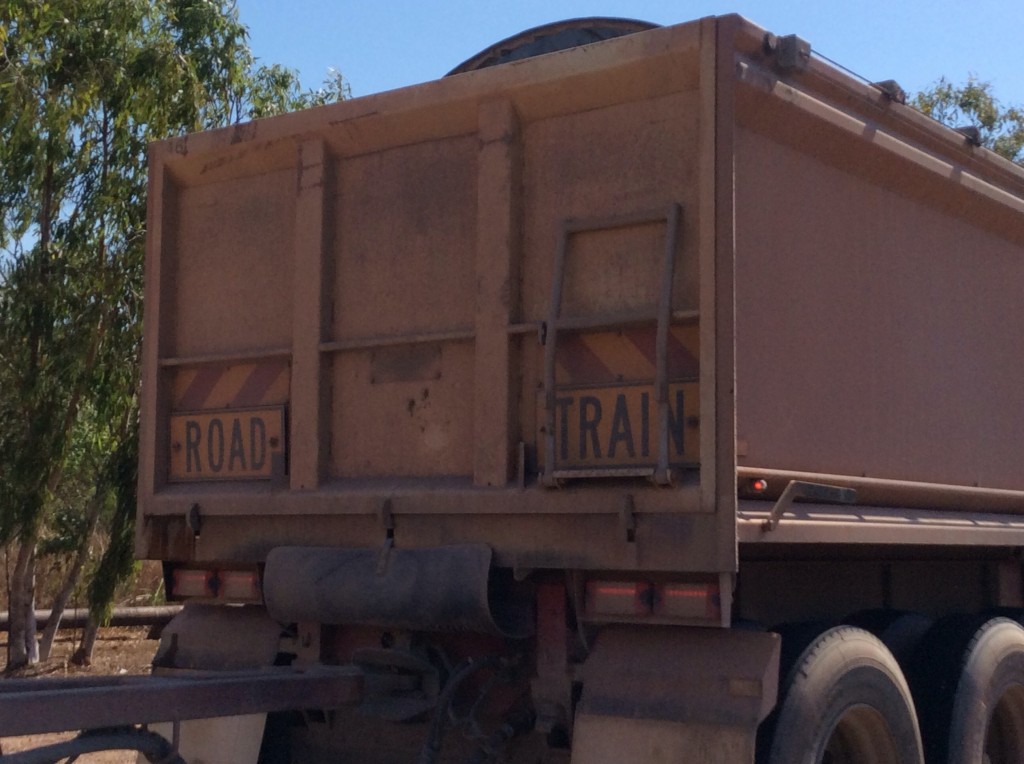 Now in the UK, if you get crowds of people enjoying fish and chips by the seaside, you undoubtedly get flocks of annoying seagulls.  Not so in The Northern Territory of Australia. We finished our day with a visit to Stokes Hill Wharf, started sipping a beer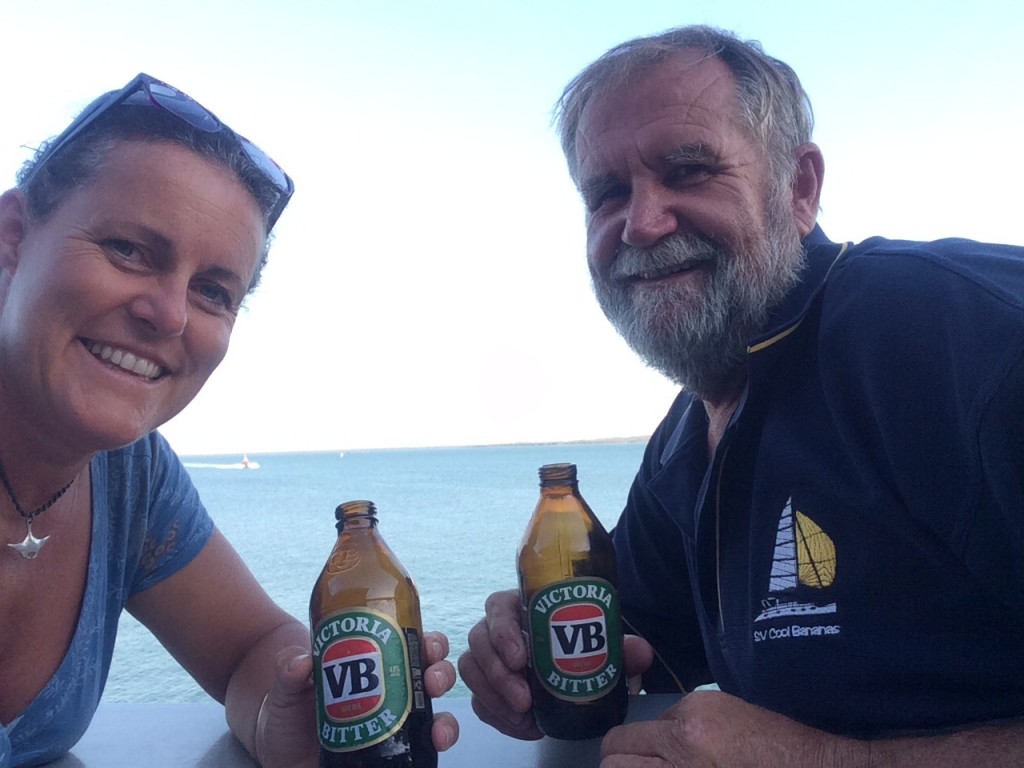 and gazed down into the water and saw their seagull equivalent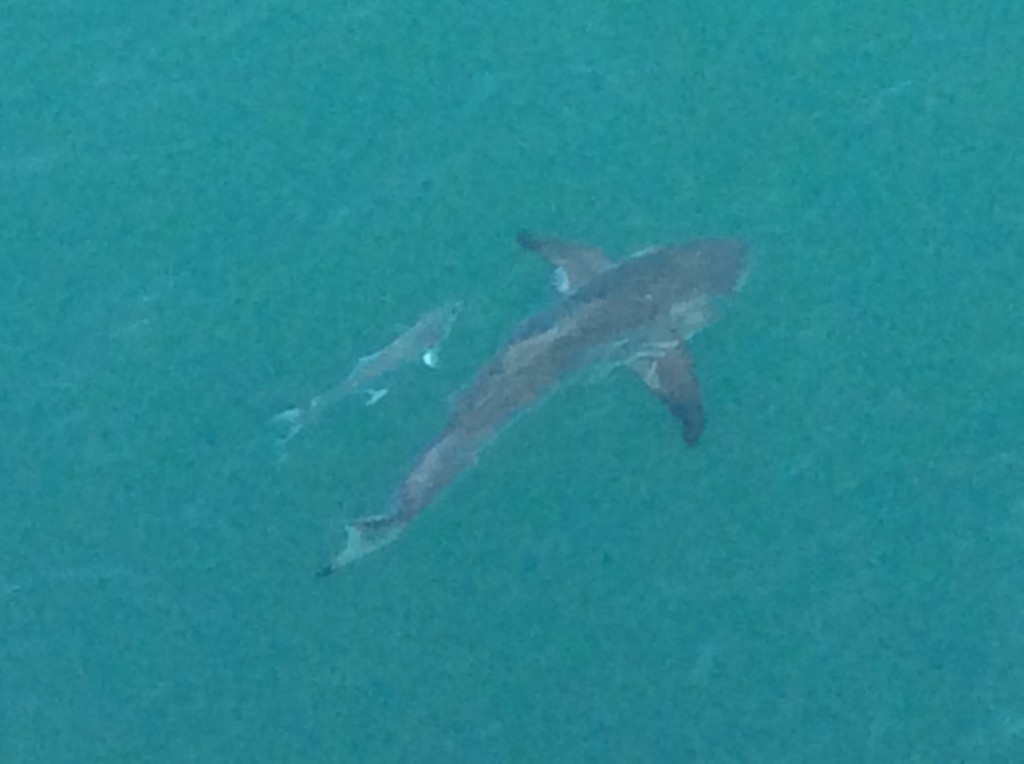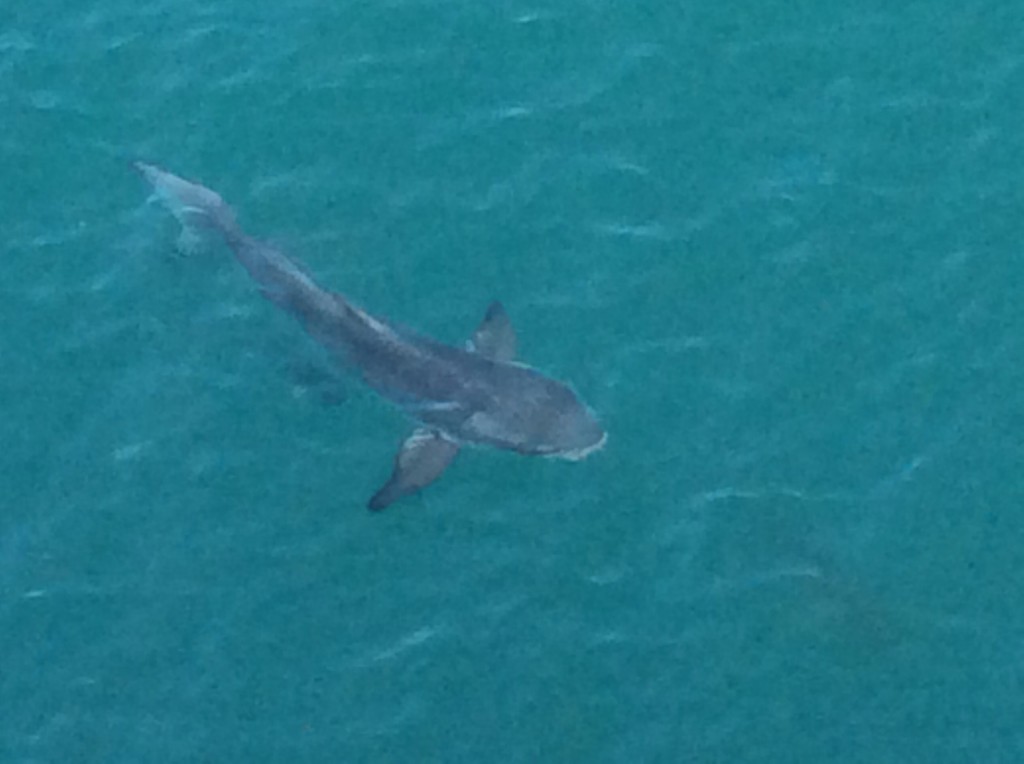 People enjoying their suppers on the wharf above were tossing remains of their meals into the sea below which was being enjoyed by the friendly shark! It seems the local sharks have a liking for leftover chips!
I was keen to taste more that the Northern Territory had to offer, and Daryl suggested I book myself on a tour for 3-4 days, he seemed keen to have some space and I wasn't unhappy to be away from the long list of boat maintenance jobs!
Along I went to book a tour at a hip hop and happening place called "Youth Shack", I arrived, all smiles having done my research and asked to be booked onto a 3 day 2 night Kakadu and Litchfield National Park Tour with Territory Expeditions –  It was described as designed for the "Fit and Active" thats me!  All was well as the agent went through the booking process until she came to a question and hesitantly asked me, (not sure if she was being insulting), asking if I was between the ages of 18 and 45.   Being an honest person I proudly said "No, I'm 50", this necessitated a phone call to be allowed permission to book an elderly woman such as myself on the tour.  Now I feel really special!
So it was, the following morning that a lovely guy called Heath came to collect me
in his company car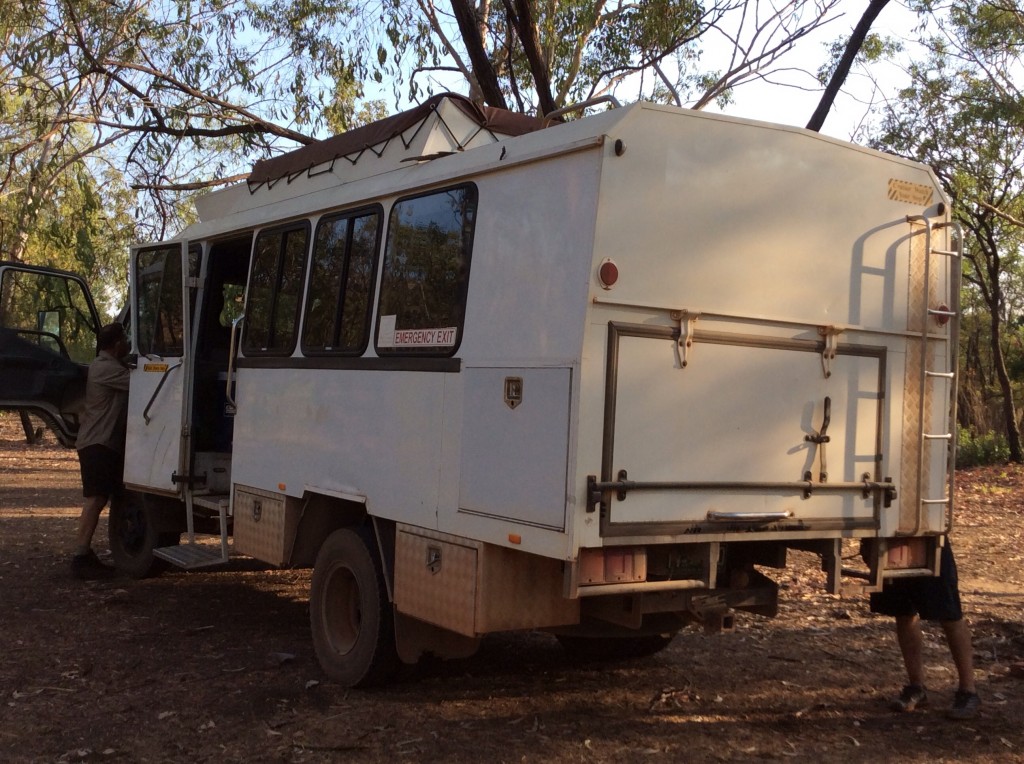 Ready for a fun filled 3 days of culture and delight.  I must say I had a wonderful time with Heath and the band of young things sat in the back of the van being jostled around on dirt tracks.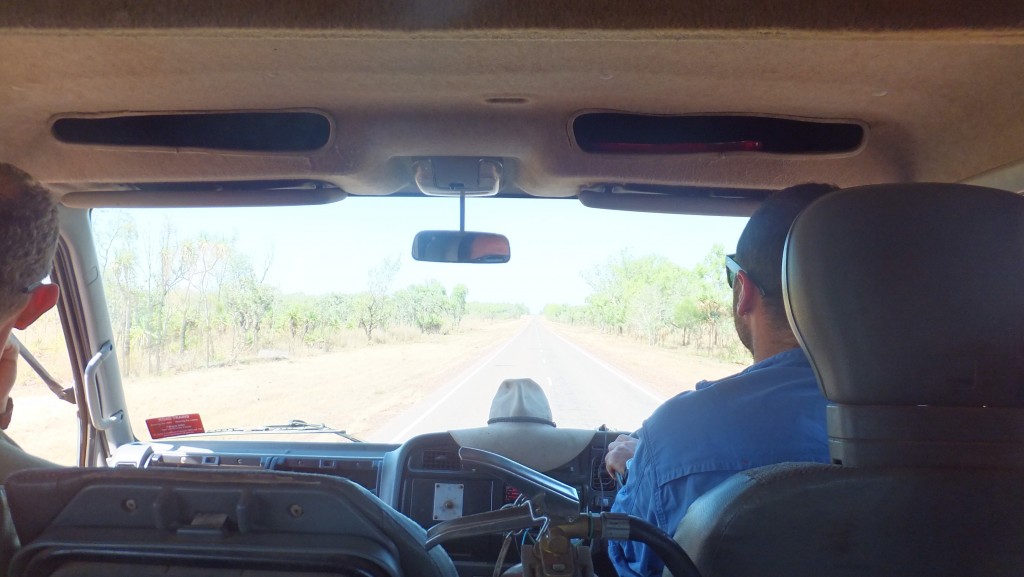 The group were very quiet at first then livened up as time passed and more alcohol was consumed around the camp fire!  I was glad to see that I was not the only old thing on the trip, but was also joined by Gary, a good egg, just shy of his 60th birthday who certainly proved his value, as his "maturity" and experience came in useful when the starter motor went on strike!
I think the company may like to rethink their age policy and appreciate how useful us "oldies" can be!
Us two old things got on just fine with the young ones!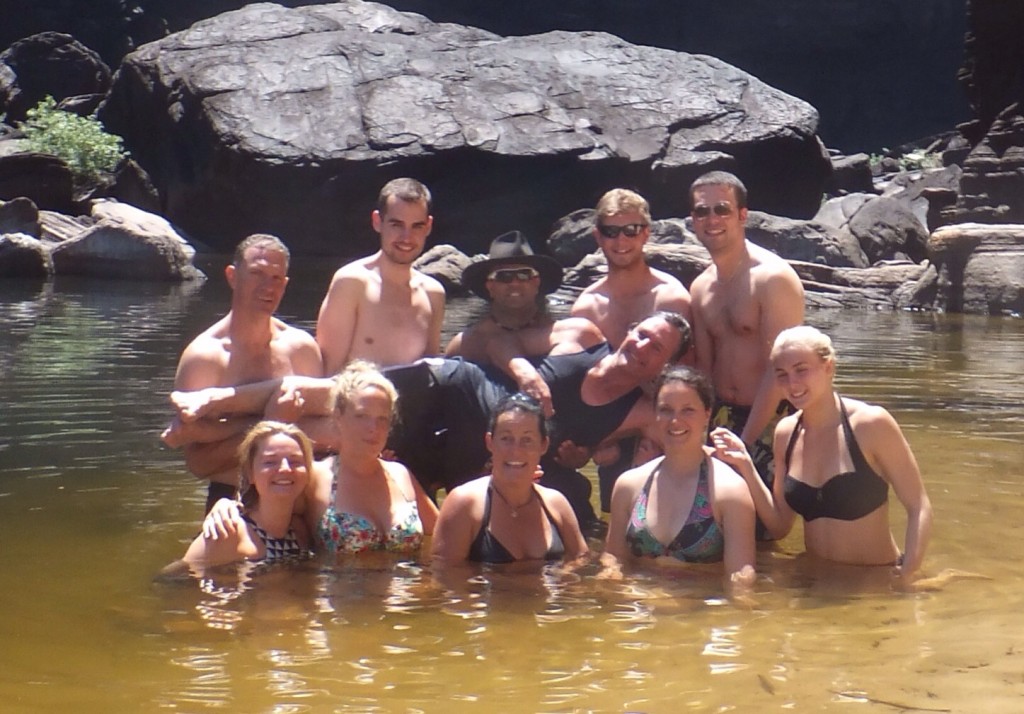 Our tour started at the picturesque Billabong at Corroboree
and within minutes we caught our first sight of our first croc with the macho name of "Rocky"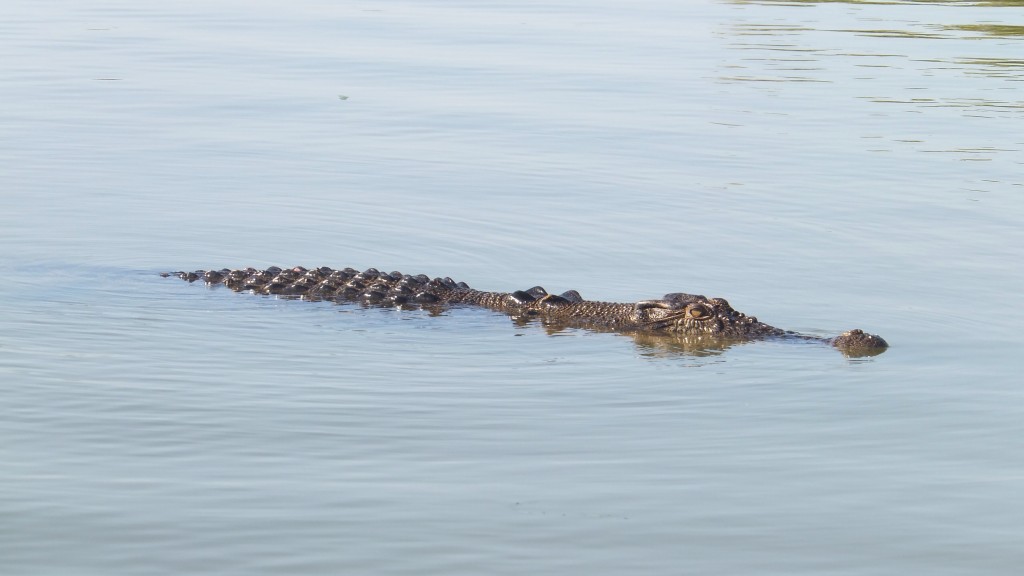 and many more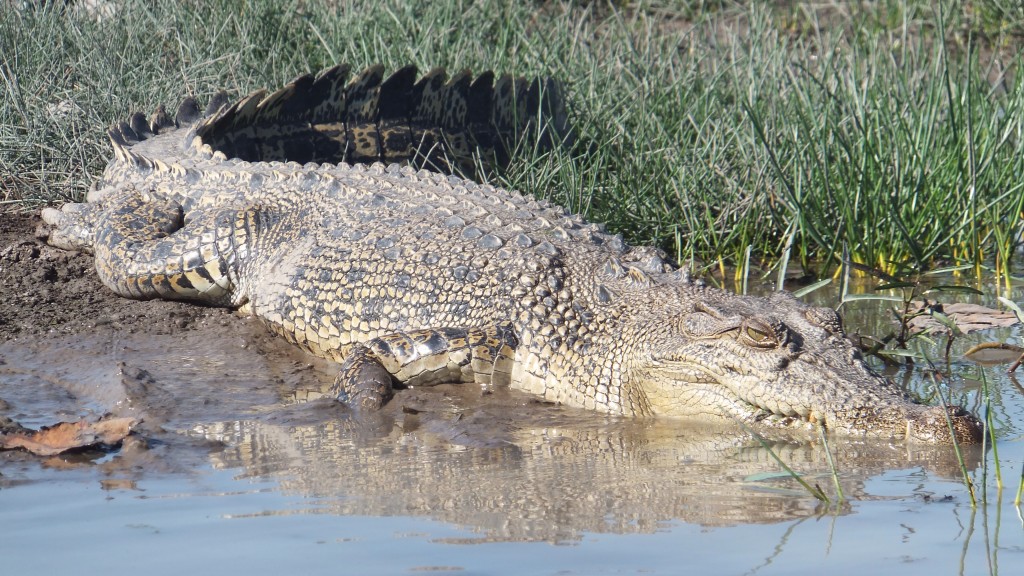 This Billabong was home to an abundance of wildlife, numerous crocodiles, salt as well as freshwater, and many birds
This is a Jacinta, otherwise known as a "Jesus Bird" due to its ability to walk on water……
The gorgeous Lotus Flowers were so abundant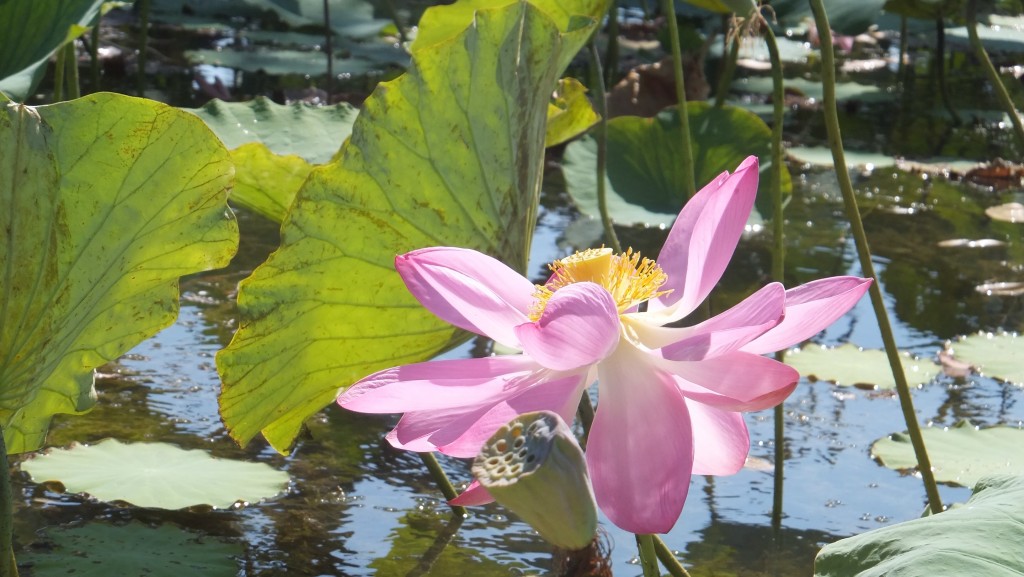 I was fascinated by the Crocodiles, such ancient looking creatures, so highly evolved, yet so feared.
Crocodiles are of course to be feared, and the area is littered with warning signs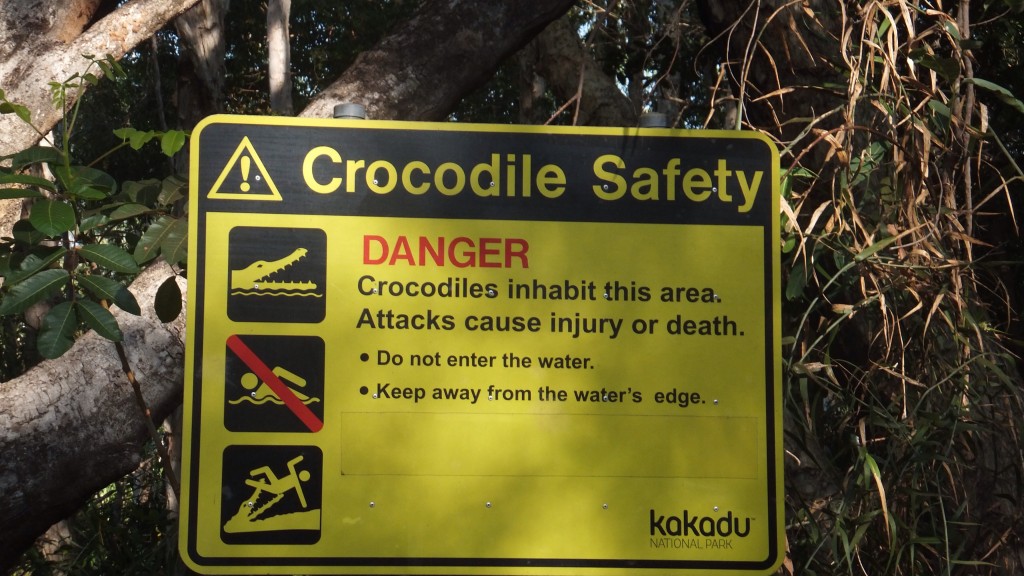 Many people do not heed these warnings and then there is an outcry when a crocodile attacks a human for they certainly make headlines!
Apparently, there are four reasons why crocodiles attack humans: One, of course, they (particularly the large ones) see humans as prey.  Two, they are of course protecting their territory. Three, crocodiles attack to protect their young. Four, some humans are bitten by mistake (e.g. attack is targeted at some animals near or accompanied by humans).
It seems unfair to me, that when a human enters its territory and it attacks, the crocodile is then dealt the hand of justice.  I will give you some recent examples and you can see what you think.
Last month, a  58 year old fisherman waded into the Adelaide River to retrieve a hook he had lost.  This happened to be the territory of a well known crocodile called Michael Jackson!)
Like most wild animals protecting their territory, he killed the invader, poor MJ was later shot. Tragic for the anglers family, but not great news for the croc either!
On the Adelaide River, tour operators take groups out on boats, they feed the local crocs, which jump to take pieces of meat hanging from a pole. Its called "Jumping Croc Tours".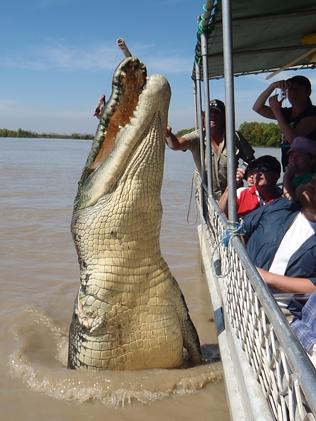 Not a great surprise to hear that in June this year, just further downstream, 62-year-old Bill Scott was taken from the rear of his moored boat. Another absolutely tragic event, and the first known fatal attack involving a person in a boat. Poor Mr. Scott became the meat on a pole for the crocs which had been trained to do just that! 
The largest crocodile in the area is known as Brutus, who recently attracted worldwide attention when photos were taken of him eating a large shark.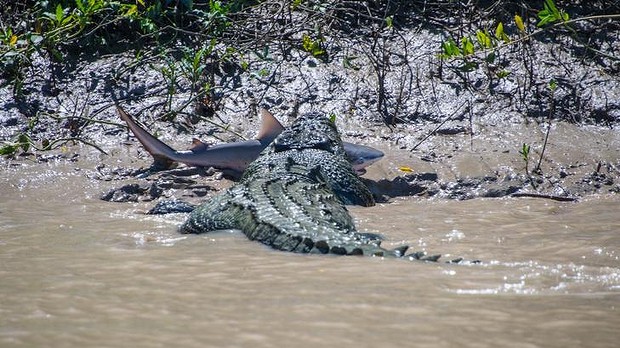 So for me, if I were to spend time on a Billabong or anywhere near the territory of a crocodile – I would be hiring one of these
We spent 2 out of our  days at Kakadu National Park which is enormous and covers an area of 19,804 km2 (7,646 sq mi).  It extends 200km from north to south and over 100km east to west – about half the size of Switzerland.  It contains one of the most productive uranium mines in the world, right in the middle of a National Park.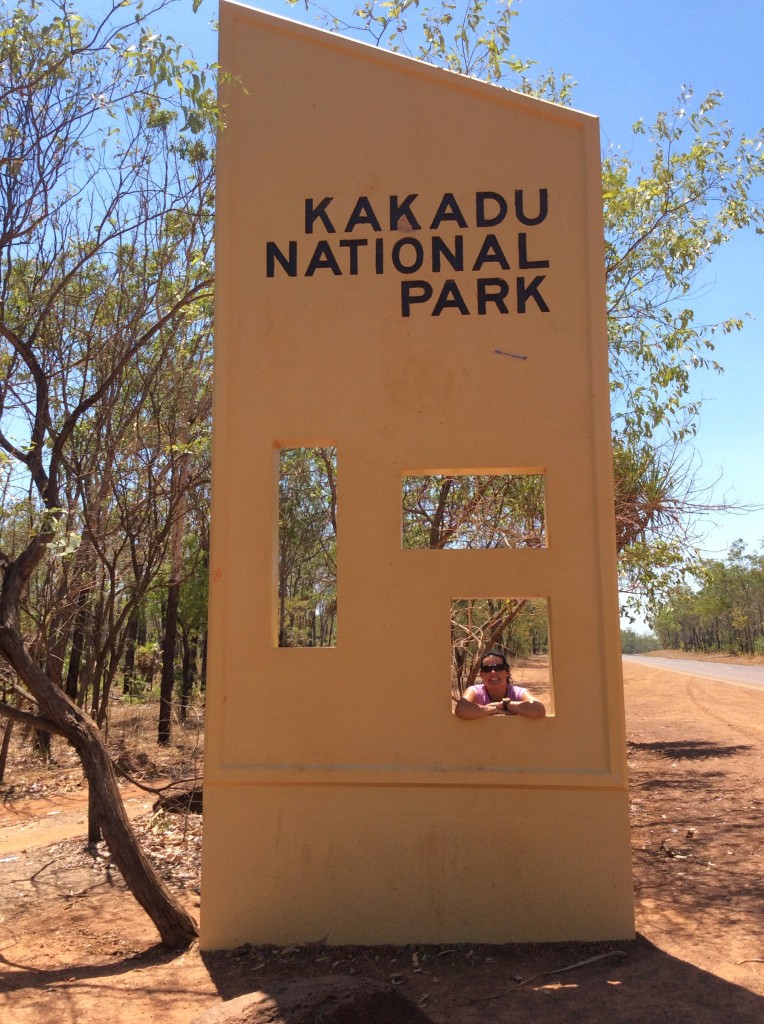 Heath took us on a lovely walk, up and over boulders to stunning scenes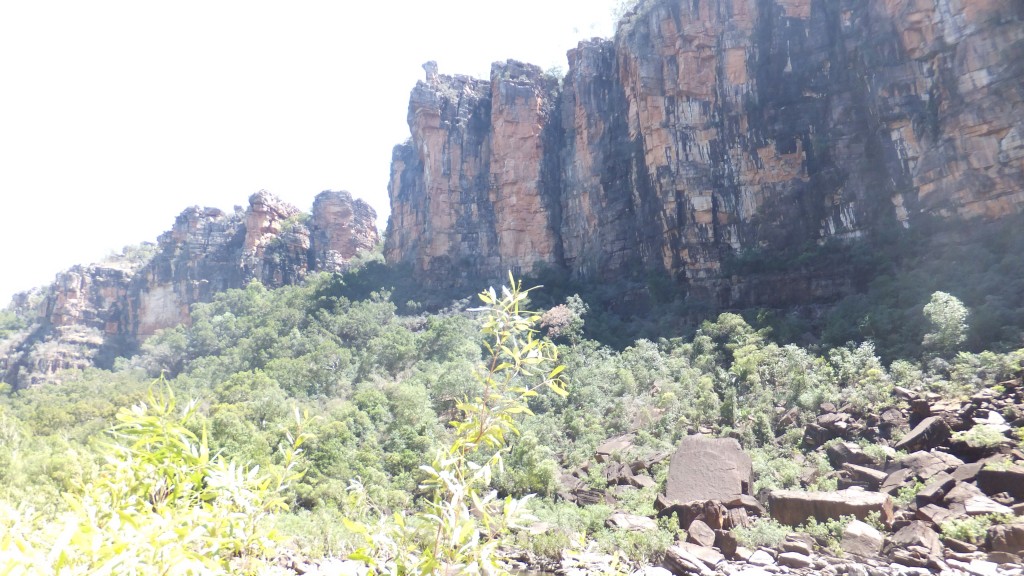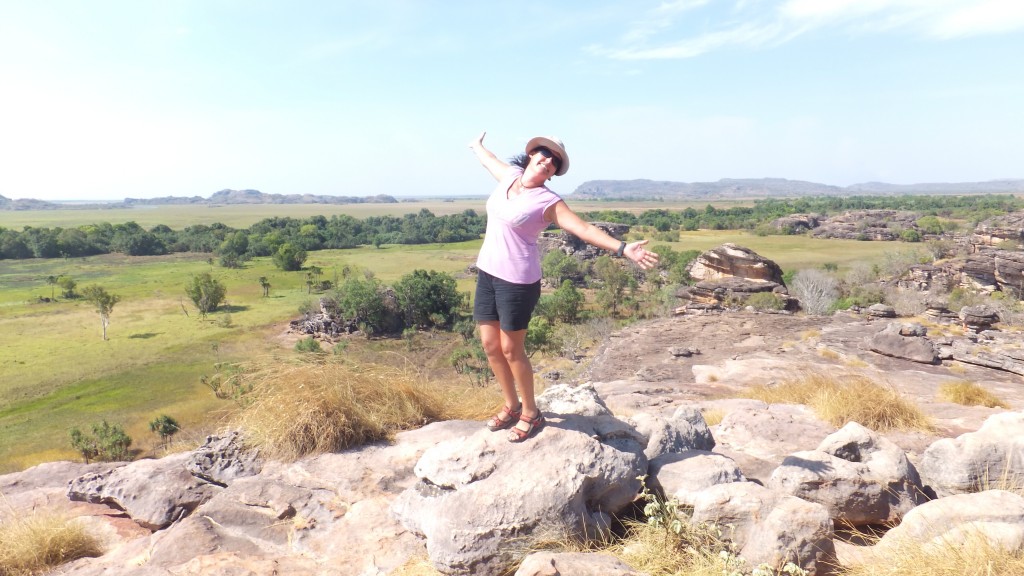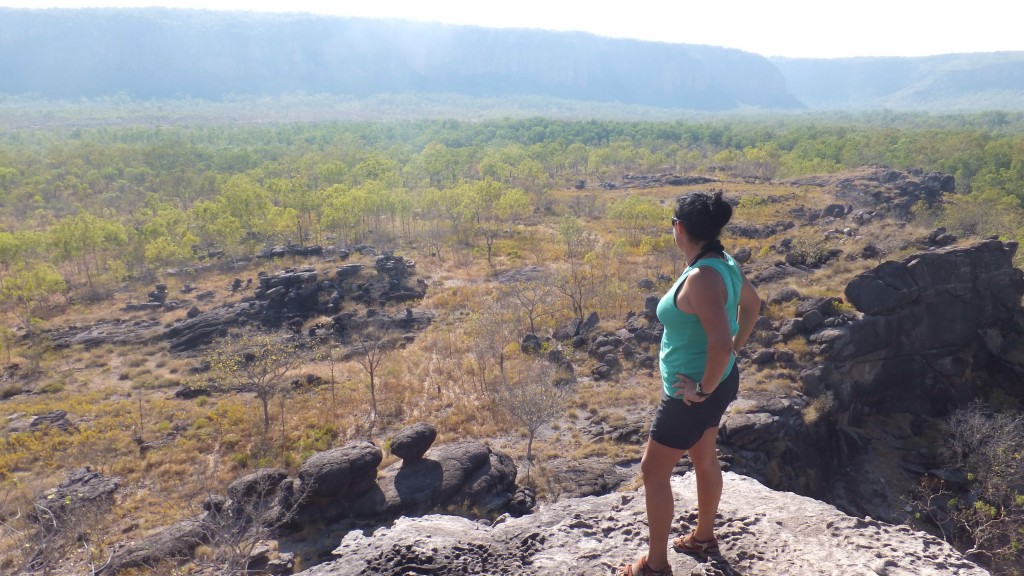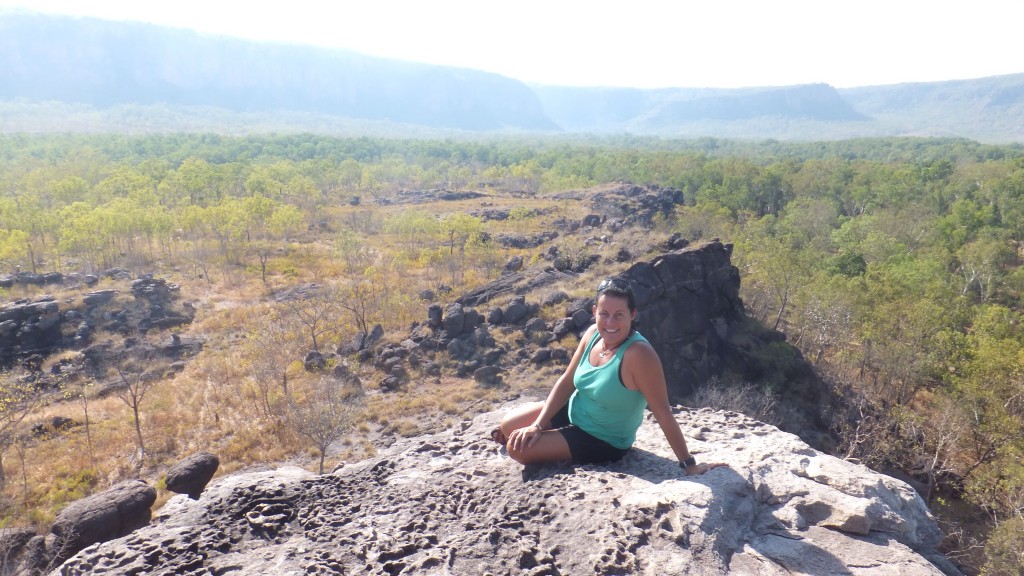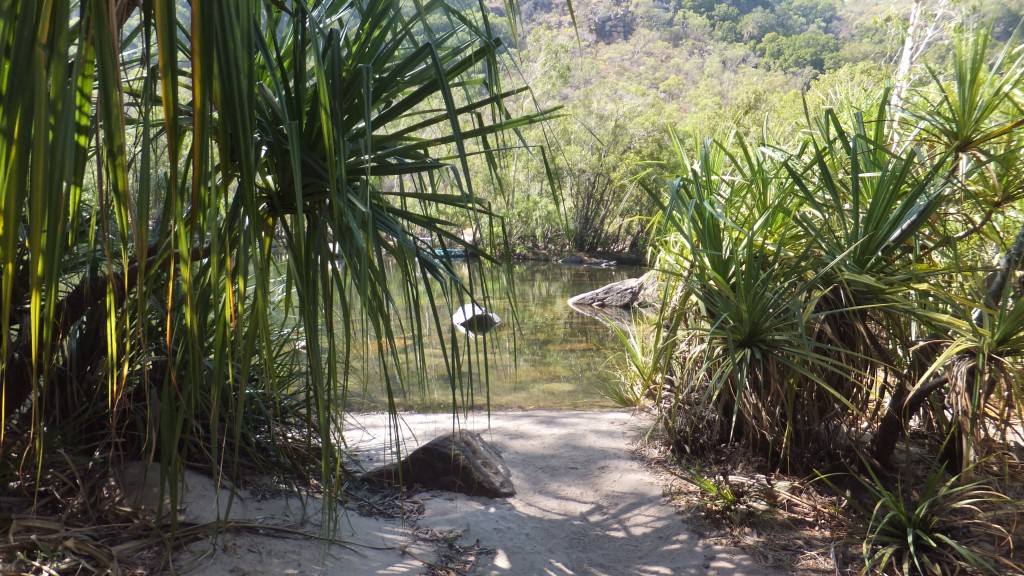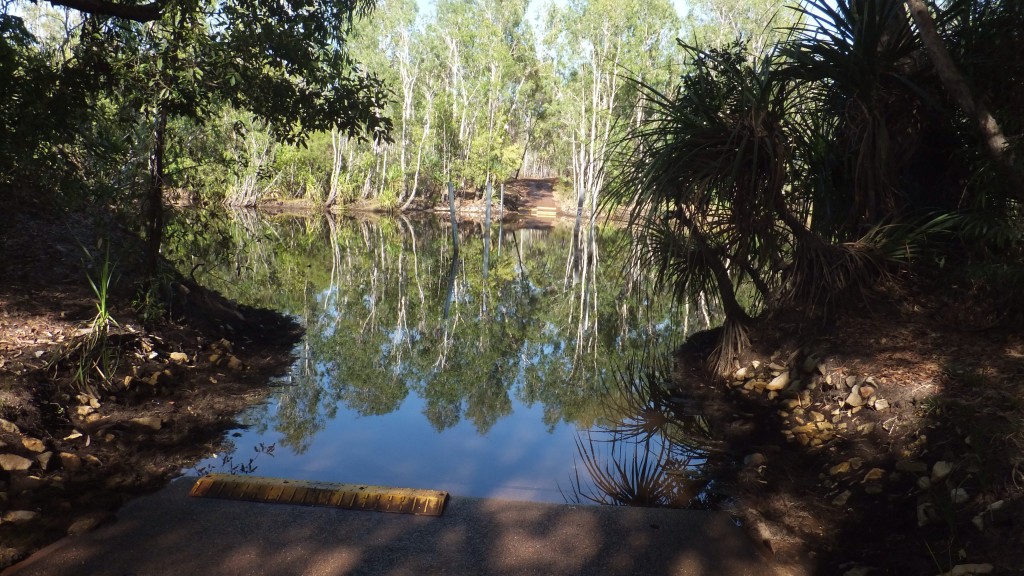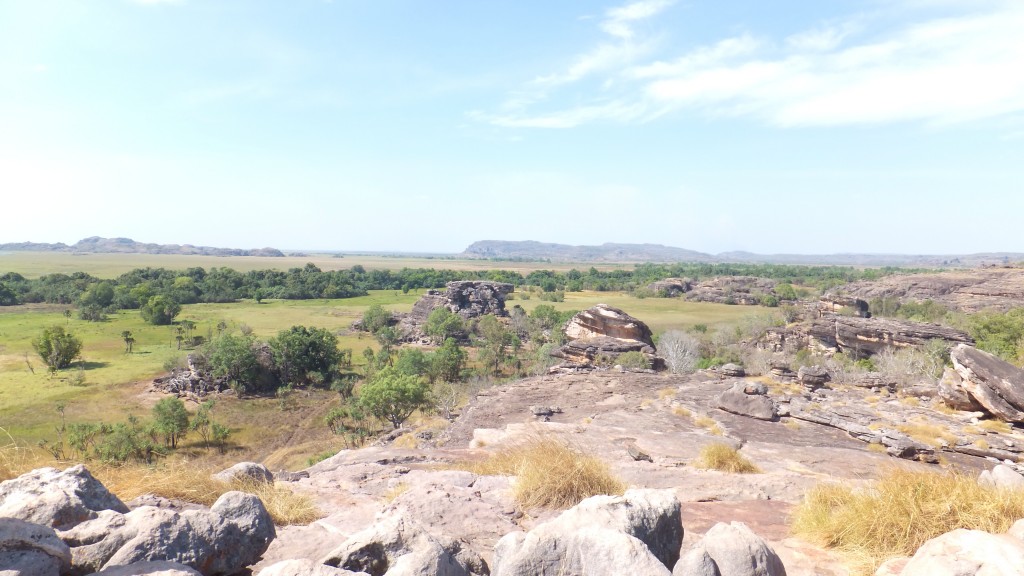 The name Kakadu comes from the mispronunciation of "Gaagudiu", which is the name of an Aboriginal language formerly spoken in the northern part of the park
Aboriginal people have occupied the Kakadu area continuously for many thousands of years, and this area is renowned for the richness of its Aboriginal cultural sites. There are more than 5,000 recorded art sites illustrating Aboriginal culture and demonstrate Aboriginal occupation for at least 20,000 and possibly up to 40,000 years.
Ubirr is a group of rock outcrops in the northeast of the park. There several large rock overhangs that would have provided excellent shelter to Aboriginal people over thousands of years.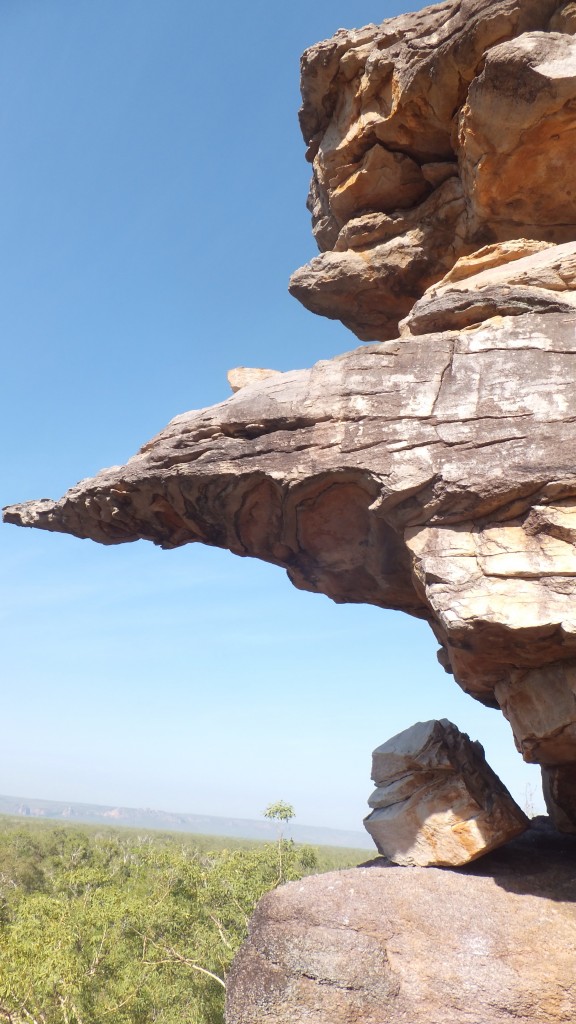 This site is internationally recognised as outstanding example of Aboriginal rock art. The sites are found in rocky outcrops that have afforded shelter to Aboriginal inhabitants for thousands of years. The painting in these rock shelters were done for various reasons, from stories and learning, to sorcery and magic as well as religious significance.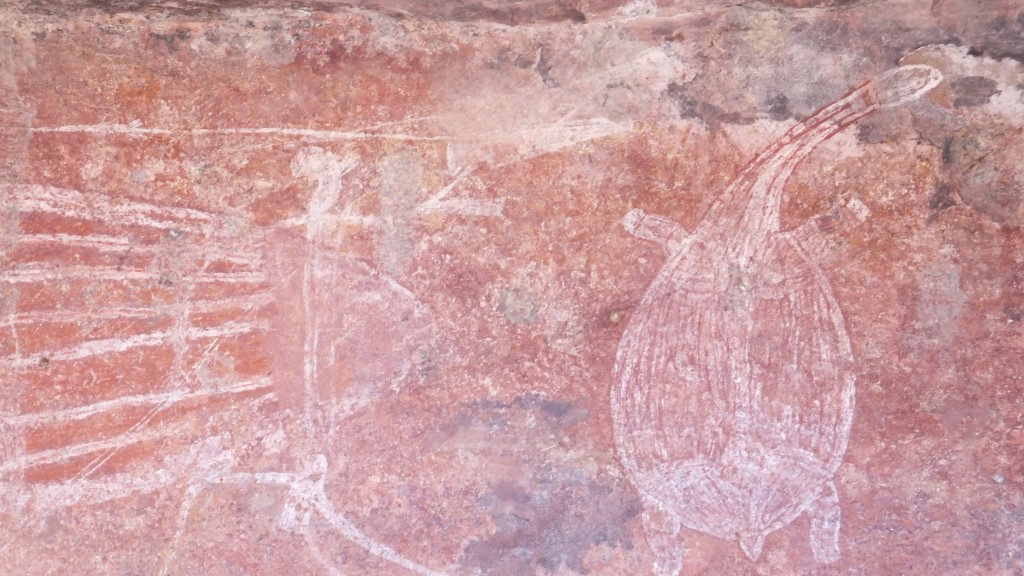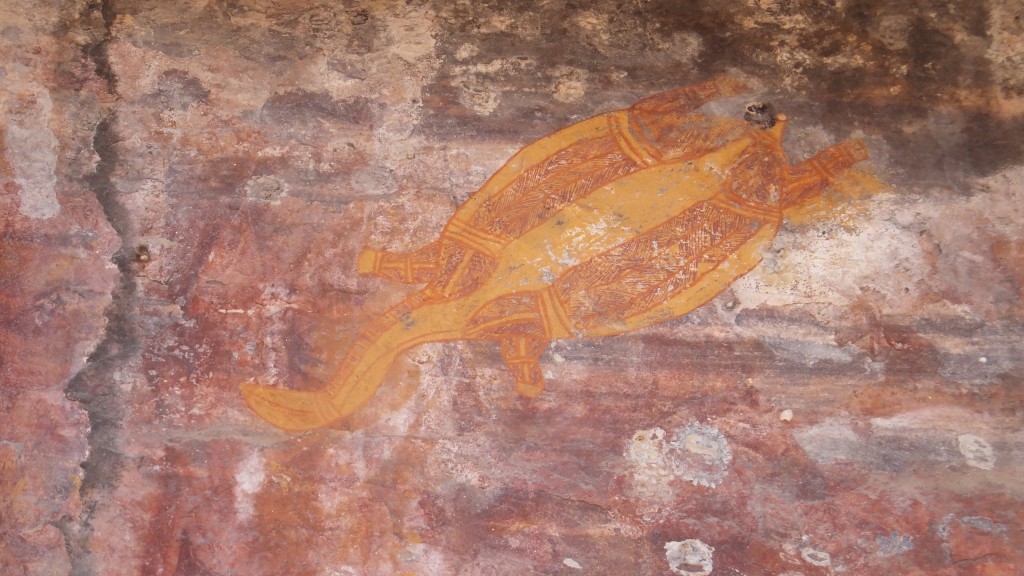 Ubirr's proximity to the East Alligator River and Nadab floodplains means that food would have been abundant and this is reflected in much of the rock art here. Animals depicted in the main gallery include barramundi, mullet, goanna, catfish,turtle, wallaby, possum and even a Tasmanian Tiger.
There are also images of the Rainbow Serpent said to have created much of the landscape as well as mischievous Mimi spirits and the story of the Namarrgarn Sisters. Many stories connected to Aboriginal rock are highly complex and linked to other stories. Often the true meanings have been lost, but they all have a purpose which is usually to serve as a lesson or a warning to the young or to those passing through the area.
The Indigenous cultures of Australia are the oldest living cultures in the world.  I am keen to learn more about these very misunderstood and persecuted people, a people steeped in culture, tradition and spirituality.  People who once were so connected to the land and a deep respect for the environment, with their culture brutally destructed by the European settlers. Enough of this for now, a subject for further research and exploration for me.
We spent 2 nights in Kakadu, making a campfire where the food was cooked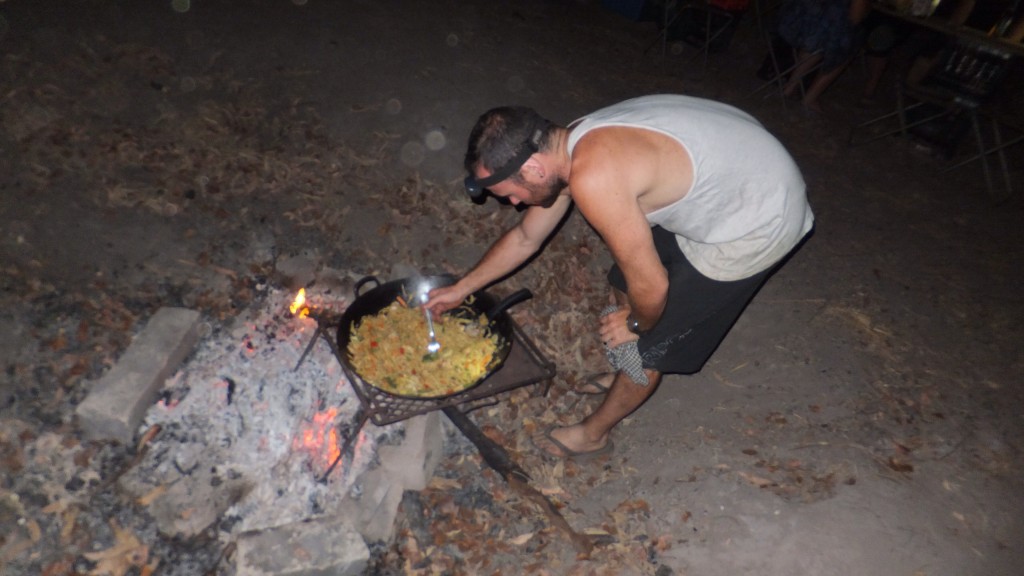 And sleeping in tents which were little more than a mosquito net (some of my friends would love this….Im thinking of you again Lisa Little!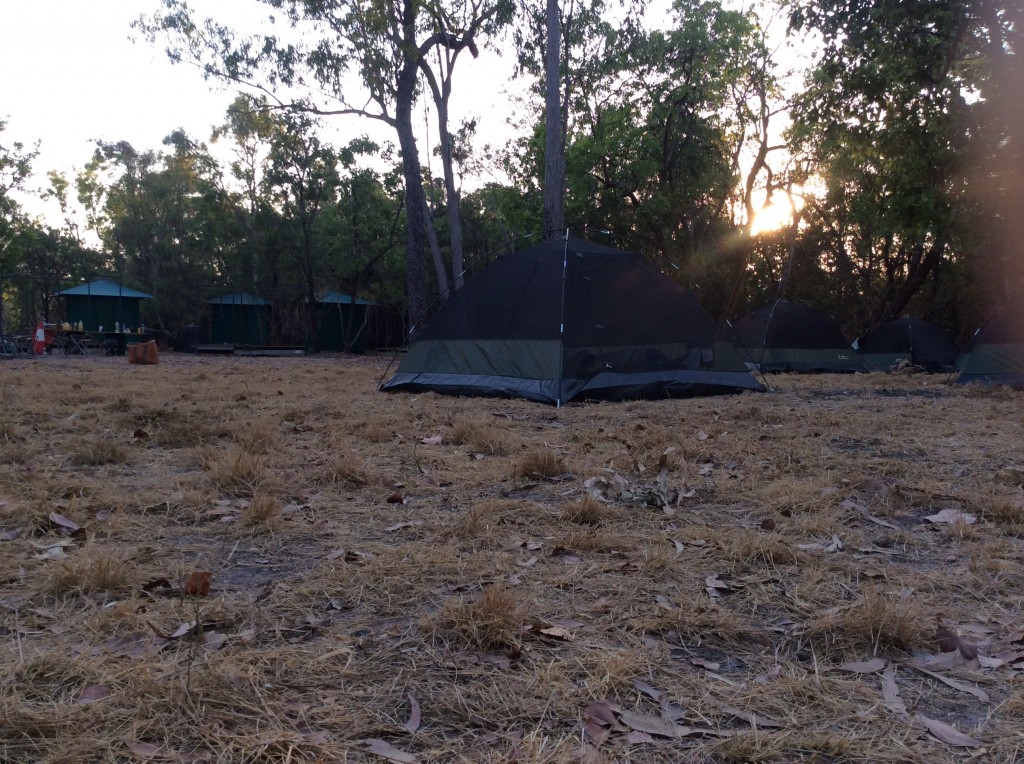 They may be basic, but they afforded great views of the stars and the sunrise!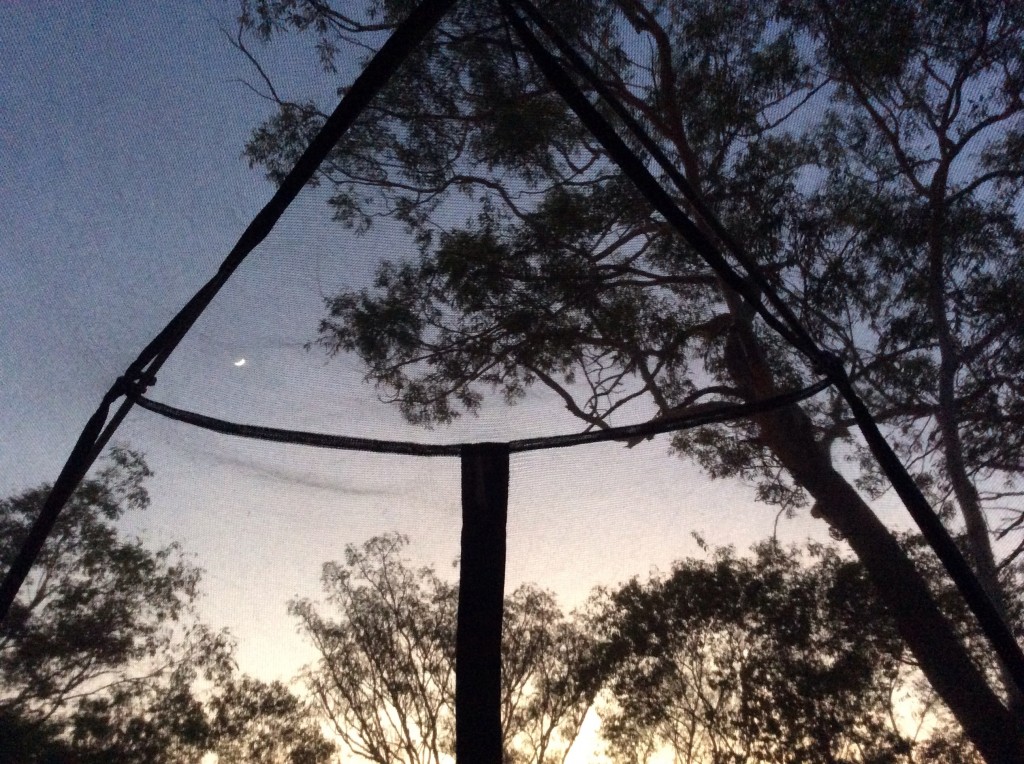 The whole group got involved with the organisation of food and setting up camp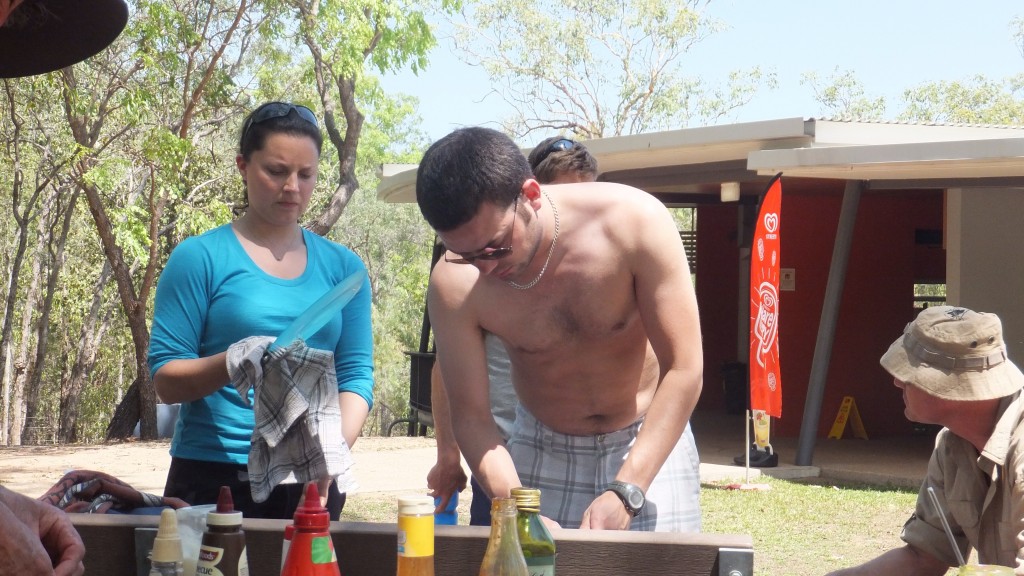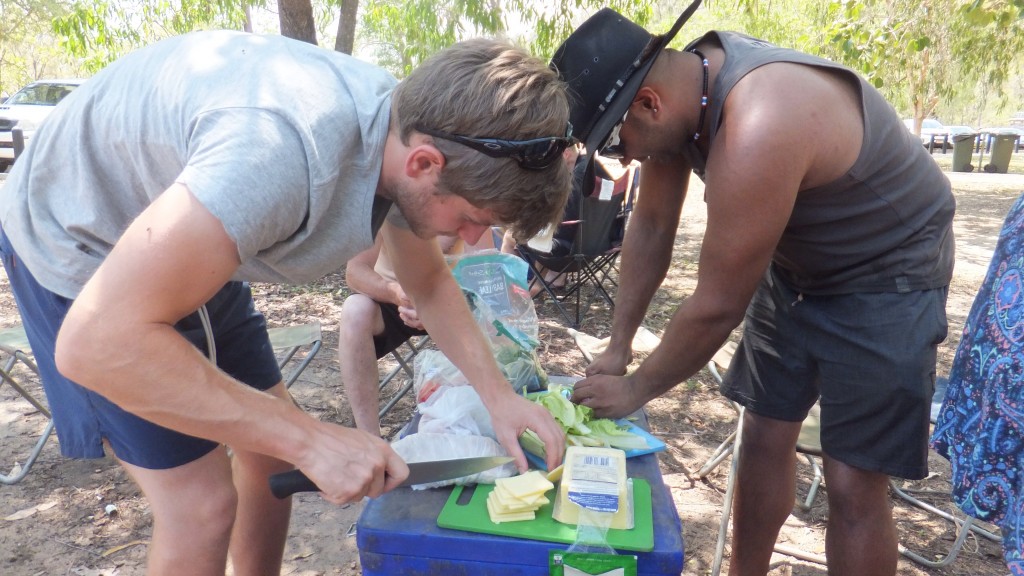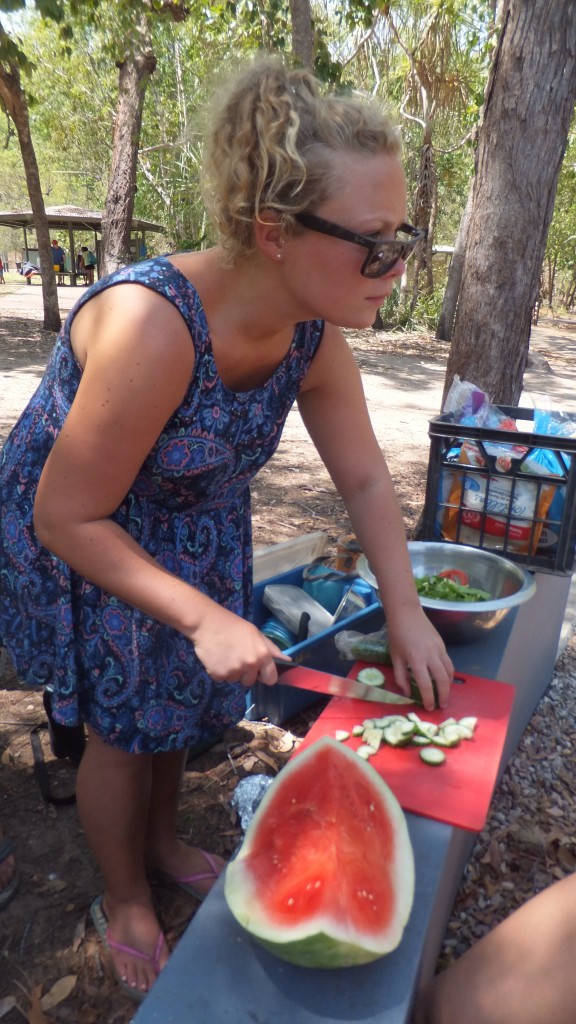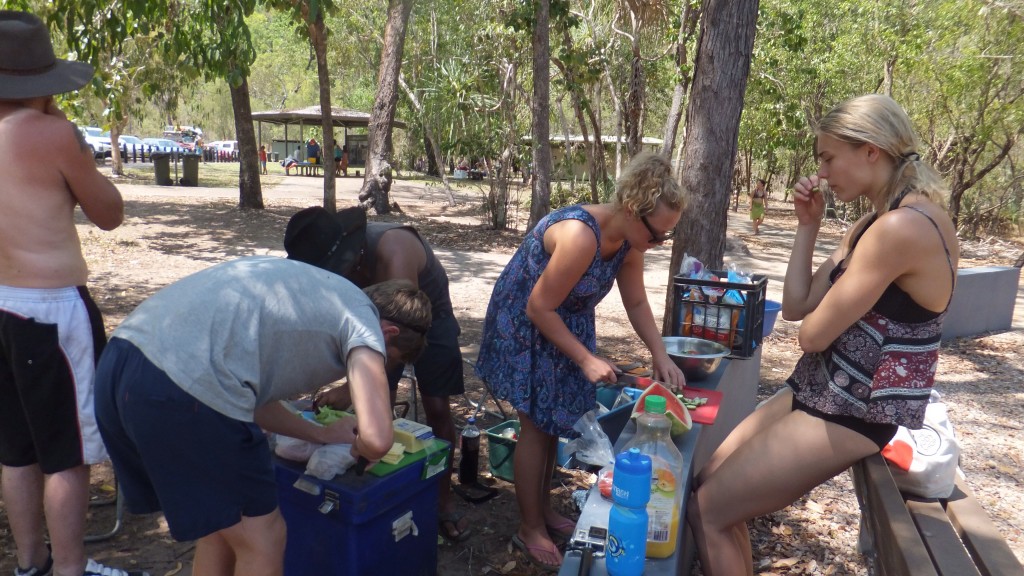 and we all enjoyed swims in plunge pools and waterfalls, and were told the area was monitored for crocodiles…..they even have traps for them….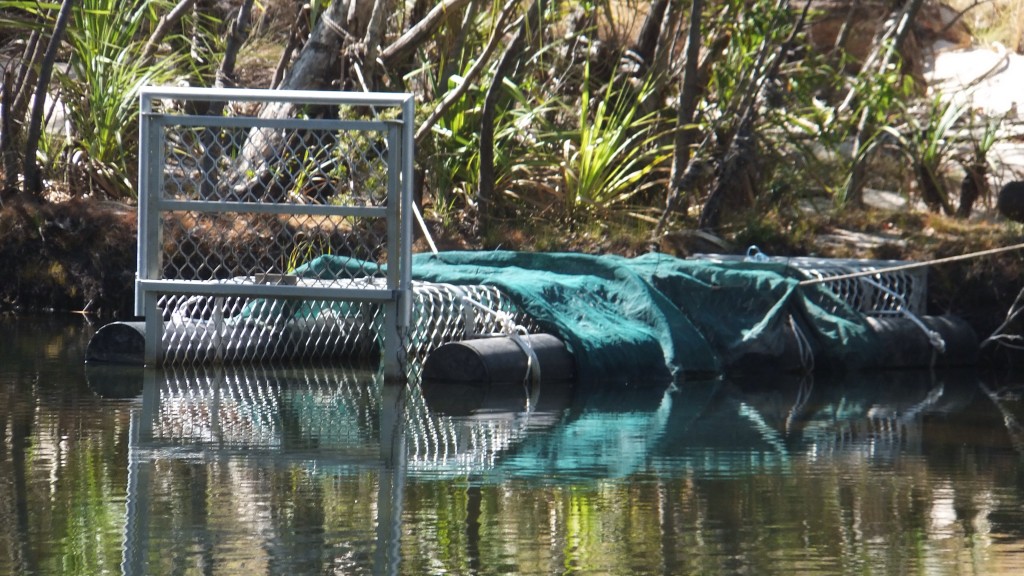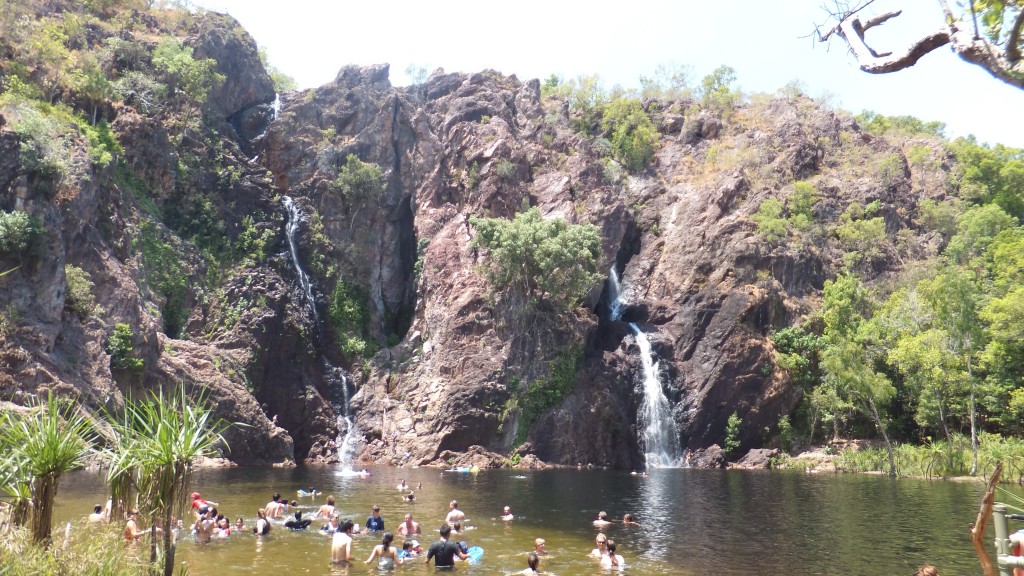 and of course a visit to Jim Jim Falls
The termite mounds were amazing to see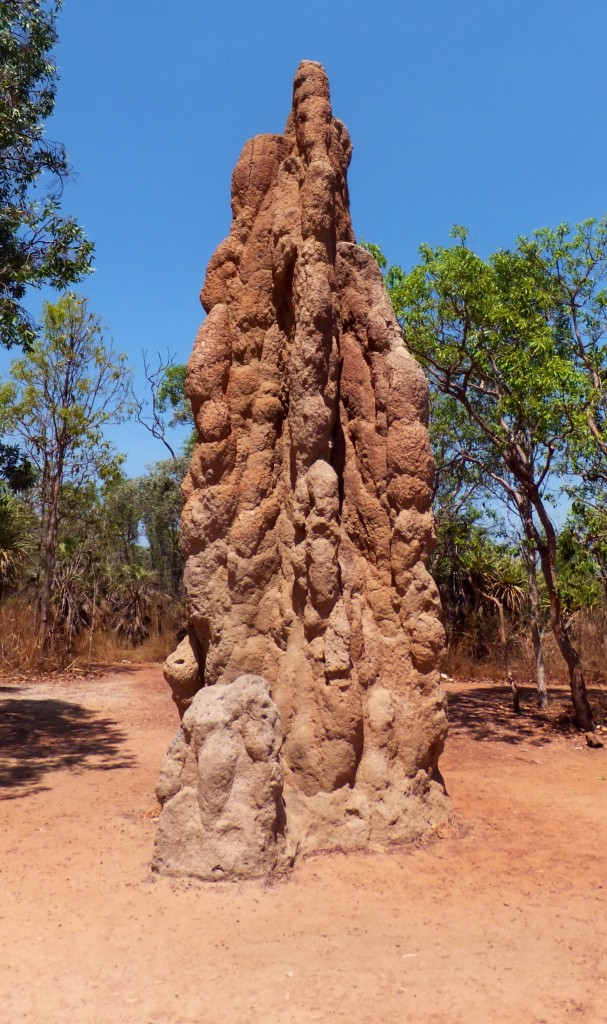 it dwarfs me!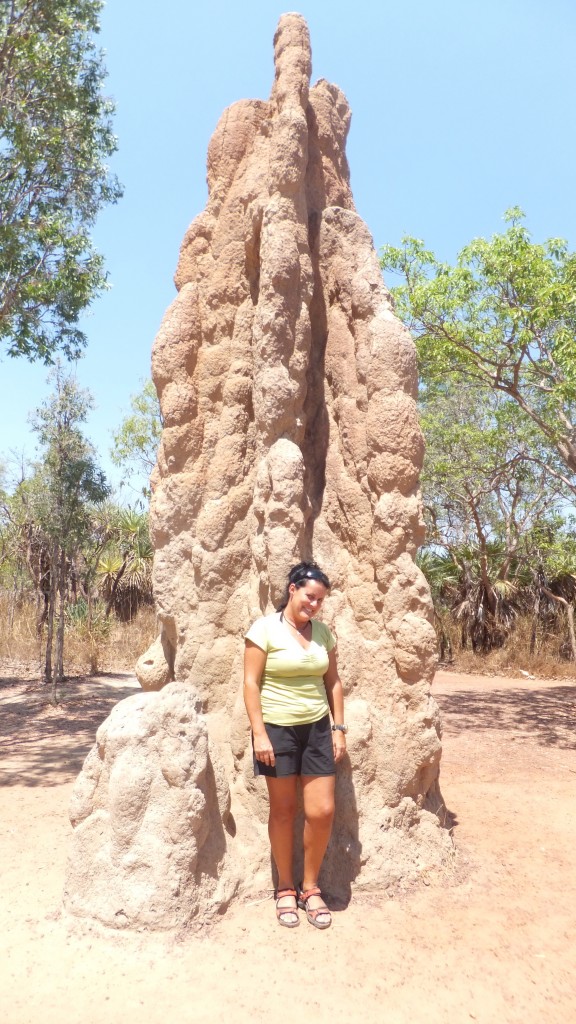 and Heath pointed out many trees, plants, birds in true "Ray Mears" style.  He stops the bus as he spots an interesting plant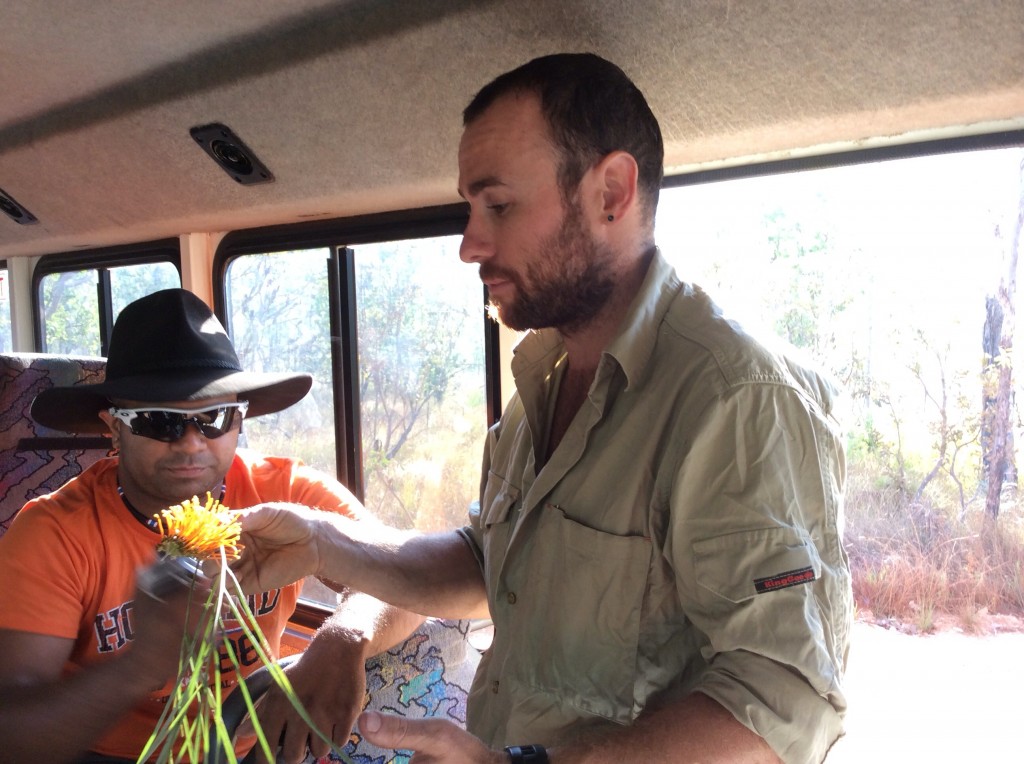 and explained that were a traditional favourite among Aborigines for their sweet nectar. This could be shaken onto the hand to enjoy (as we all did) or mixed with a little water to make a sweet drink. They might be referred to as the original "bush lollies"!
Heath showed us Banksia (I do hope Im getting all these facts right Heath – there was such alot to remember!)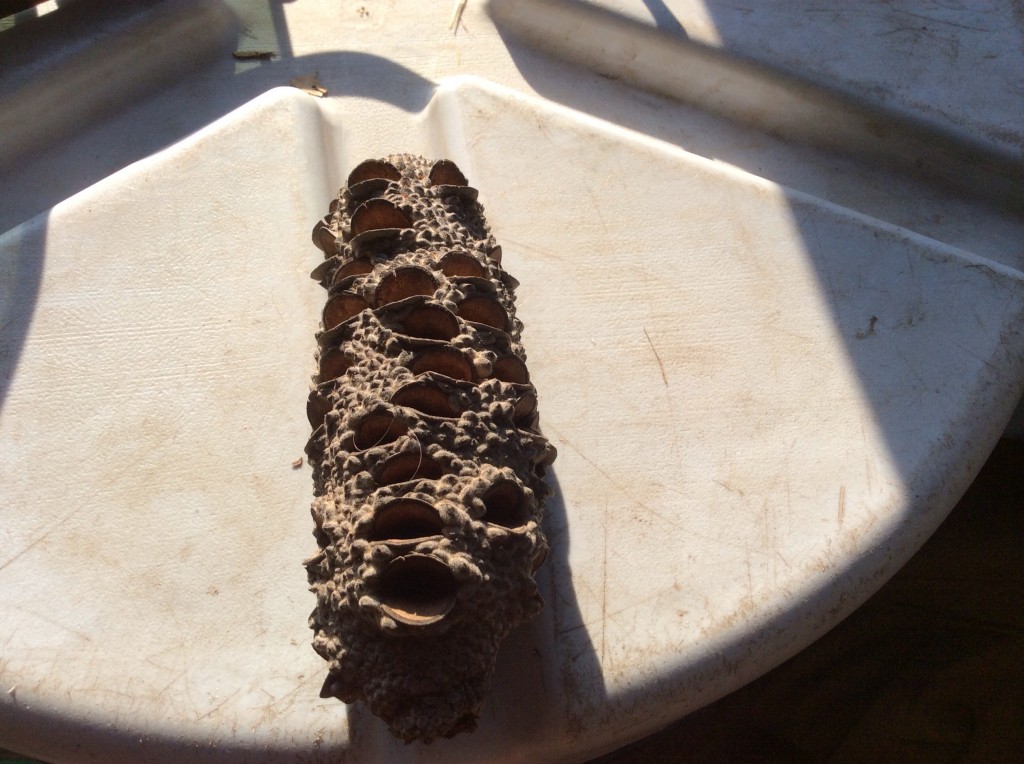 Indigenous people would light old seed cones and use them as firebrands, these lasting for up to two hours. A hot smoking flower spike was used to cauterise leprosy sores, and people suffering from diarrhoea would squat over smoking cones in the hope this would relieve their symptoms. The thin woody spikes that did not develop follicles were used as nasal ornaments by aboriginal women, and flower spikes were used as combs (Gary tried this – he looked fantastic afterwards!
The Kapok tree was extremely interesting.  It produced pods which are filled with a soft feathery material which aboriginal people used for bedding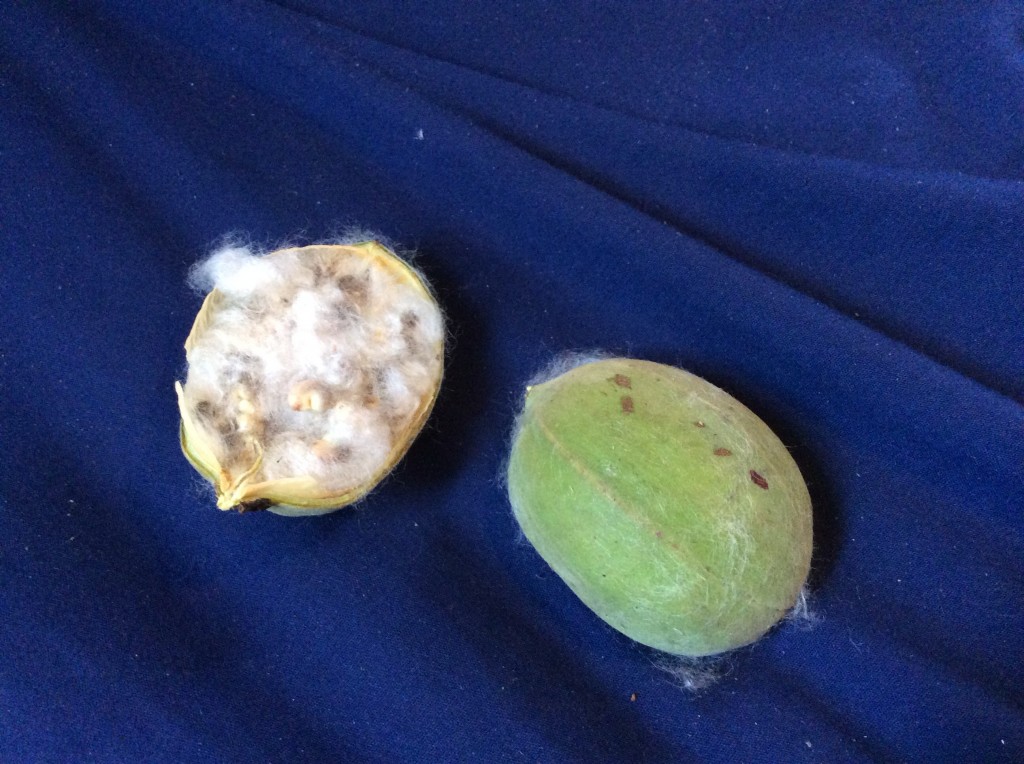 You can even buy products which use it now, check it out!
Our tour over, I emerged feeling humbled by the knowledge and skills of the aboriginal people and how in keeping they were with their environment.
I had a wonderful trip, and met up with many of the group that evening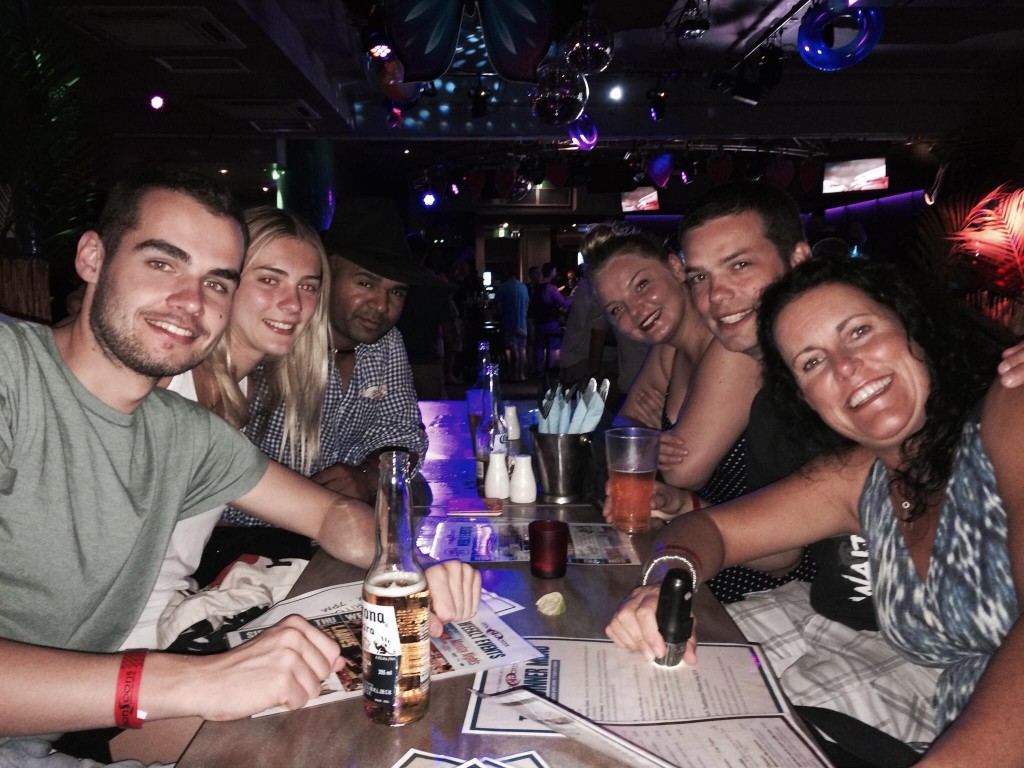 My time in Darwin nearly complete, I await the arrival of my daughter and her new finance tomorrow, they are joining us for our trip round the north coast……more to follow!