(Photos to be added soon when I get some wifi!)
Before I left the UK I said many goodbyes. One day, I met with a group of midwives from a birth unit I used to manage in Birmingham. We were all enjoying a lovely lunch together and catching up with one anothers lives, and one finally asked me, quite perplexed why I wanted to go so far away and "wouldn't it be better to learn to be a diving instructor here in Britain?"
Whats a little letter between friends, an easy mistake (thanks Mychelle Taylor!), but no, the last thing I would want to do in Bali is to train as a driving instructor – you should see the roads!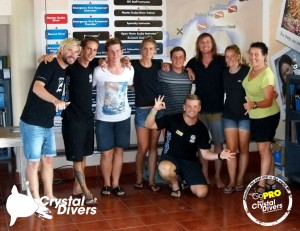 Having completed my Dive Master, the natural progression for me was to do the Instructor Preparation Course (IDC), however, I had some wobbles about this during my DM training. I questioned myself why I was doing it, if I was capable, why someone my age should do such a thing! I remember the discussion with both Robin and Andre my instructors who both reassured me that all would be fine (thanks guys!)
Now that it is all completed, I'm so glad I continued, not only am I now a PADI diving instructor, but also an instructor in numerous specialities, emergency first response, oxygen provider, deep diver, wreck diver, night diver, underwater digital photography and drift diver – Ive collected quite a number of certifications! However, more importantly, to me certainly, I have learnt so much about myself too. Ive been taken well out of my comfort zone and challenged myself, learnt so much about dealing with other people, teaching, diving and patience as well as having confidence in my own abilities.
So, let me tell you a little about all this training.
The IDC runs for 16 days and is followed by 3 days if Instructor Exams (the "IE"!!), I had a long slog ahead of me so I took myself to the Gili Isles once again to prepare for the course, I wanted to do some study as well as rest, recuperate and mentally prepare – this involved about 6 hours during the day with my encyclopedia of diving and sunsets, cocktails and barbecue buffets and Bintang during the evening.
The IDC started and I was well prepared, like a kid on the first day at a new school, early night before hand, pencils all sharpened, rucsac on back I turned up full of enthusiasm to start the course. Deep breath!
The IDC turned out to be the pressure test, it was non-stop learning and work, but I have to say that I enjoyed every minute of it!
I felt so fortunate that I was part of a great group of people who made the whole thing so much fun.
Ami and I quickly became good friends and buddies. I was so very lucky, as she had been working as an instructor for the past 2 years for a different dive organisation (SSI) so she was full of knowledge and experience which she was more than happy to help me with and in return I let her use my laptop and gave her hair bobbles – fair swap I think! Love soon blossomed
I was delighted to have a fellow Welshie on the team. Richard was a surfer dude who had usually been hitting the surf 2-3 hours before class began and turned up looking nice and relaxed at the start of each day. Having spent 2 months in a team of Danish and Swedish speakers who frequently lapsed into their own tongue, Richard and I enjoyed doing likewise from time to time. We didnt mention to the others that we were not fluent in the language, but that we were just receiting the "Lords Prayer" to one another making it sound like a conversation!
Phil was from America, and at just 18 years of age was having a marvelous time being let lose in Bali with all the opportunities presented to him. He had a great sense of humour, and took all our American jokes with good spirit.
Max (aka Maximus) was a young Swedish guy and Ami and I loved to listen to him when he made his presentations, particularly when he told us how to locate the alternate air source on a buddy – the triangle between your cheeks (pointing to his chin) and the nipples (hmmmm….the lower edge of rib cage) As you can imagine, we had marvelous fun with this. Max had a lovely physique which came to great advantage during numerous classroom presentations.
The food – oh my god, the food was wonderful, the lunches and the endless snacks – I think I gained half a stone despite the stress!
There were classroom presentations we had to write and perform and receive the critique afterwards and hope to achieve the best scores we could, a "5" being top score. There were certain rules, we weren't allowed to mention anything to do with sex, drugs, alcohol, politics or religion…….I don't know about you, but when someone tells me I'm not allowed to do something, it just makes me want to do it all the more! Remember that Fawlty Towers episode where John Cleese says "Don't mention the war" and thats all he can talk about. On one of my presentations, it was going marvelously well, but when I asked each "student" to pour a little water onto a sponge I had ready to illustrate tissues absorbing nitrogen, Richard tipped a big glug into the dish and, always liking a joke I said "I think you can prepare my G&T's in future" Doh – don't mention alcohol!! There goes my chance of a 5!
There were confined water presentations where we had to brief and demonstrate skills, then watch while the "students" perform them purposely making an error we had to detect and immediately correct (and hope they would just make the one mistake cough cough!), then ensure we give positive reinforcement, point out errors and offer solutions for the future, not forgetting to mention the objective and the values….phew!
Then to the Open Water where we had to do likewise.
We also had to demonstrate rescue skills with and without a pocket mask – approach to an unresponsive non-breathing diver, rescue breathing, equipment removal and towing to safety whilst doing so. Ami loved me practising on her and smothering her with my mask and nearly drowning her.
Of course, there was also the dive theory, with a standards exam and 5 areas of theory – Physics, Physiology, Dive Environment and Skills, Equipment and the Recreational Dive Planner – with a 75% Passmark, no pressure there. On day 2 of the IDC we turned up with the exams sat on our desk to try to see what we could achieve with no preparation. I was very grateful for my time on the Gili Isles preparing for this and I passed all exams with just a few marks down on my Physics, even achieving 2 at 100% (what a class swot!), but I knew I had to work on the Physics, I couldn't afford to even let a few marks slip by. Thanks to Christoffer for your help with this mate!
We even had a presentation from the Area Manager from PADI – from Paul Tanner, Aka Tosh, who even gave us bribes to stay awake the whole time!
The staff were marvelous and we were so well supported. This was Conny's first IDC as a course Director, and I had met him just the week before and informed him he had a girls name (what a great start to our student/Instructor relationship!) Well, despite the rough start, Conny was fantastic, always looking fresh faced each morning, full of energy, enthusiasm and humour he would lead us through the day. Half way through the course Minni returned from her trip to Kuala Lumpur and would work alongside Conny with her no-nonsense style and humour.
Felicia was training as a staff instructor. A young Swedish woman with a very gentle style and we soon learned to seek her help when needed. She is a very unimposing character who soon became a good friend to Ami and I, and I'm sure we will be friends for many years to come.
Christoffer was also from Sweden, another quiet character who was also training as a staff instructor. He didnt like mornings too much and gradually came to life as the day progressed. He absolutely loved diving and his passion for this shone through. He was a great source of support for us all, particularly for his support with learning Physics!
It was fitting that we celebrate the Swedish Solstice (Midsommer) in true style. You wouldn't believe me if I told you that we all did a dance underwater around a handmade extra large penis and testicles (I'm sure thats what the art work was signifying!) all jumping around like rabbits in a circle with our hands at the side of our head with flowers on our head. However, I have photographic evidence!
The IE was soon upon us, we were all totally prepared and walked into a room with all of our wearing the Midsommer wreathes on our head, trying to ignore the worried glances from the other candidates!
We were led by 2 great examiners from PADI called Mark and Steve who had a very relaxed style and a great sense of humour.
We started with the theory exams and were delighted with the excellent pass marks for us all. Ready for the next day when we were to commence at 8am with our open water briefings then enter the water and perform our skills – we all emerged with "5's"!! Ready for our classroom presentations in the afternoon, again, top scores all round! Just the confined water skills the following day.
The pool was absolutely freezing, and when I came to present my skill "use of a pocket mask" from the rescue course, I demonstrated on Ami and could feel her whole body shaking! It was all worth it, top scores all round – we were now dive instructors!!
All that was left was the celebrations!
There is always a party after the exams – fittingly called the "IE Party", where candidates have to choose a theme for fancy dress – our group chose "~Tacky Tourist" (of course it wasn't the American in the group who came up with that idea….was it?)
We had such a hoot at this party
There was only one day for recovery before the instructor speciality (Master Scuba Diver Trainer) course began. Many days in the classroom followed by finally getting out into the sea once more,blessed relief. We went to Candi Dasa, Tulumben and Nusa Penida (I think I need to write about this separately when I get a moment!)
I would like to convey my thanks to Crystal Divers for all their support and professionalism. I have made many friends during my time with them, and feel certain I will remain in contact with many.