When I first arrived in Australia over 3 years ago, my daughter, Francesca and I were invited to crew on a boat on a race around Magnetic Island. We prepared a packed lunch with scrummy sandwiches and crisps, and completed the meal with a banana or two and turned up at the marina eager to start our trip.
Upon our arrival, the skipper of the boat and his wife (Mick and Val Gillum)
ordered us to eat the bananas before we embarked as it was felt unlucky to have them on a boat. We did think it a little strange, but humoured our fabulous nautical hosts and scoffed our bananas before stepping aboard.
I have thought little about this superstition and it was far from my mind as I planned a four day trip to Cairns with the lovely Doug on his beautiful boat Shazam.
Doug and I set sail on Friday with all food for the trip onboard, complete with a bunch of bananas.
Doug, a very experienced sailor but grounded in common sense with a scientific brain merely raised an eyebrow as I cocked a snook to superstition.
Those non-sailors reading this may be wondering what is wrong with this. Quite, I agree, but it has long been held that bananas shouldnt be allowed on board.  Not only this, but apparently neither should you start a voyage on a Friday, nor for that matter, should you have women on board – we were breaking so many rules.
I had this thought in mind as we anchored off the beautiful island of Hinchinbrook, beneath its beautiful soaring mountains, fabulous bird life and gorgeous blue waters, I wasnt feeling at all unlucky. Pah to superstition!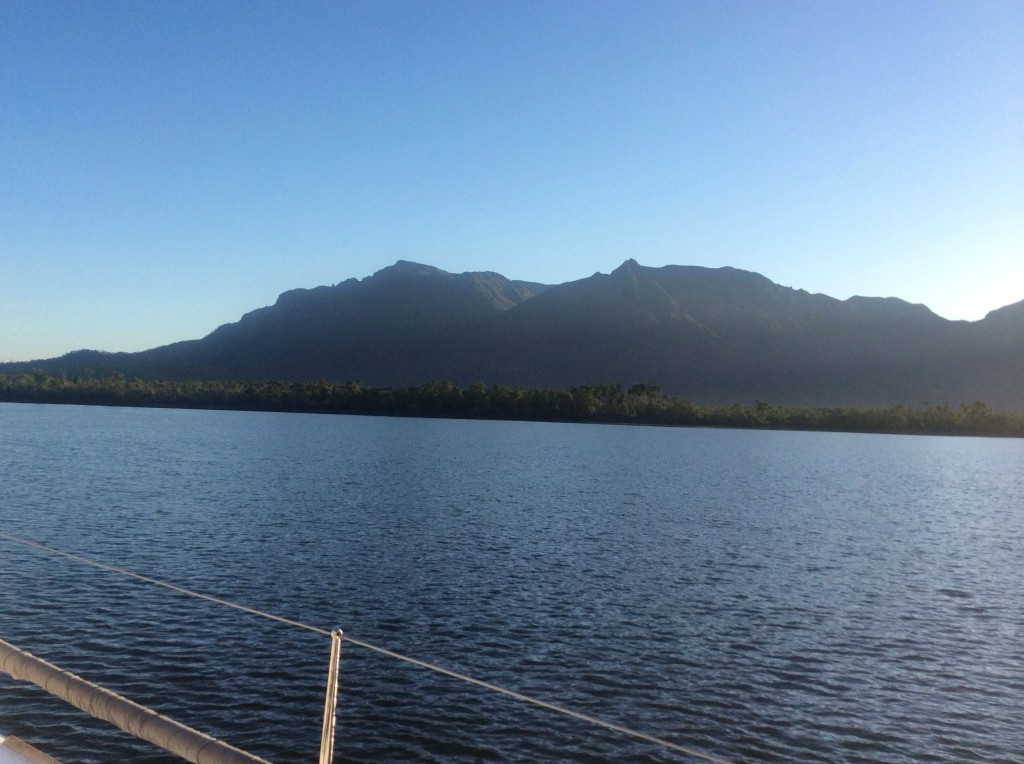 That was, until the skies blackened and a tremendous electrical storm took hold.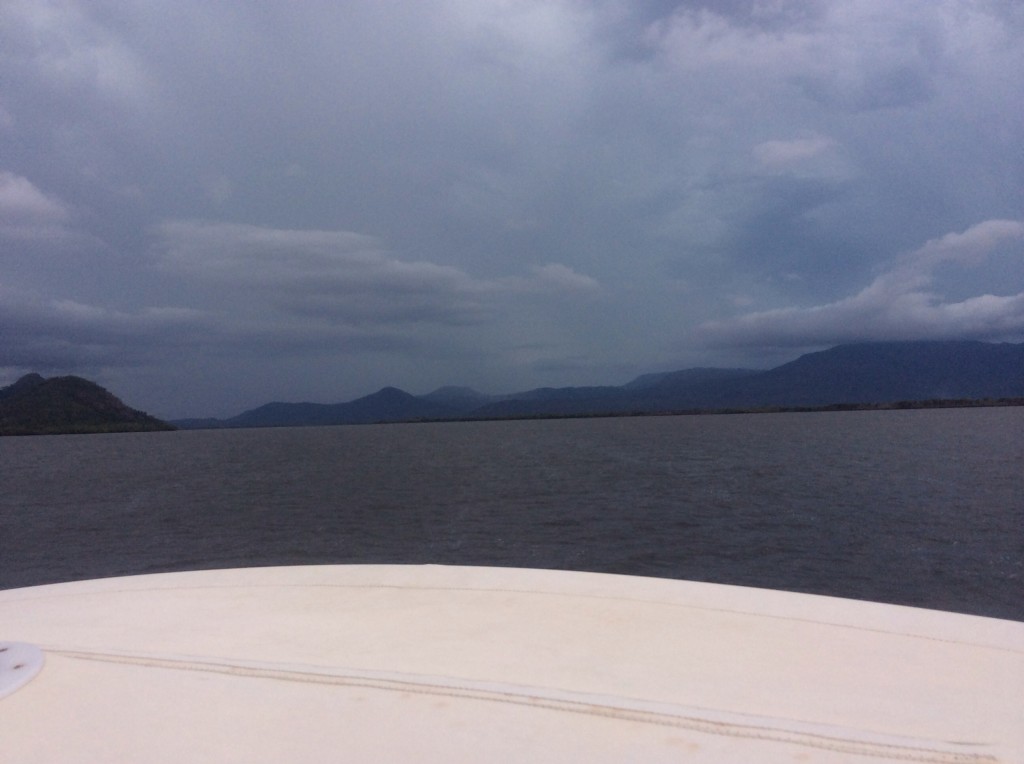 I love storms, and have always liked to stand at the window at look at the sky being lit, learning as a child to count the seconds between the flash and the clap of thunder to estimate the distance between me and the spectacle of nature. I was doing just the same, taking as many photographs as I could until I could barely discern a time lapse as the storm grew ever closer and I retreated into the boat!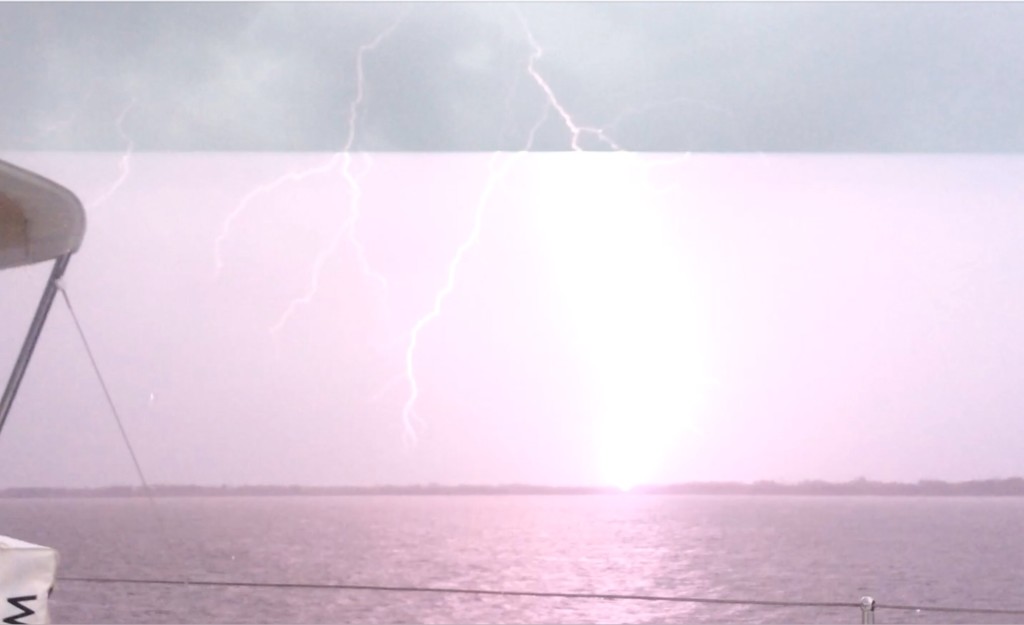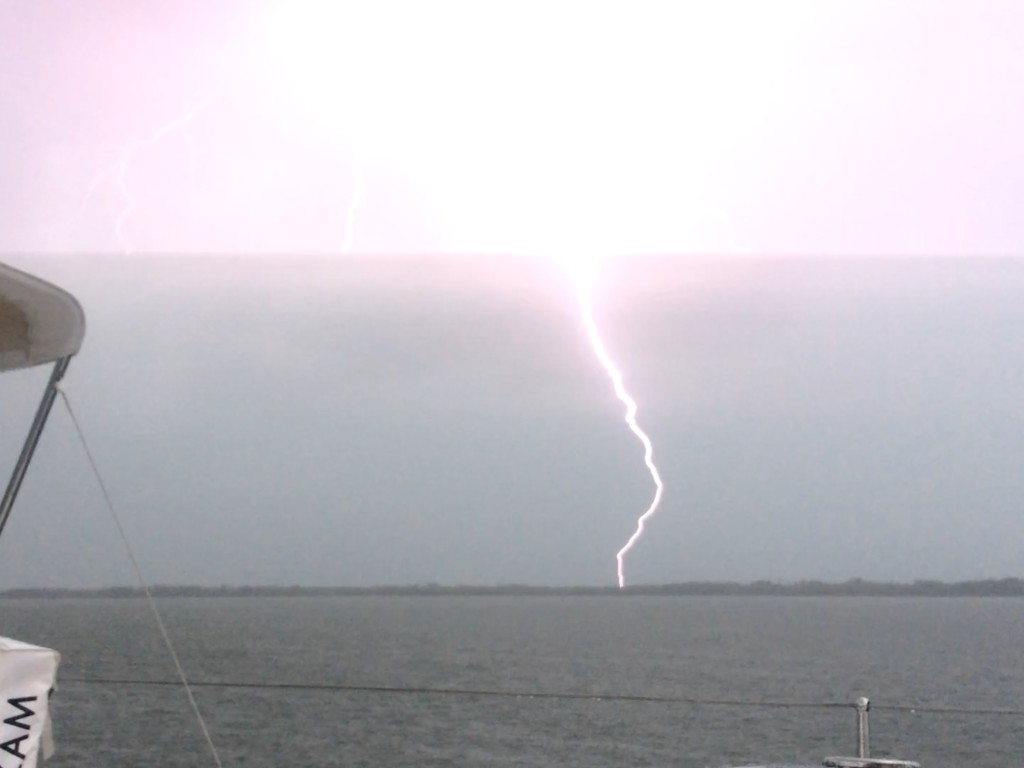 A bolt of lightening and crack of thunder as loud as I have ever heard appeared right by the boat, I leapt a meter into the air, my heart pounding, wearing thick rubber soled shoes I had taken the precaution of donning,  My childhood storm watching days were not a patch on sitting exposed on a boat out on the sea in a tropical storm and I was not sure whether I should feel exhilarated or scared to death.
The storm continued, with lightening bolts all around, it gradually moved north leaving us to gorgeous warm rain that gave me an opportunity for a refreshing shower!
So, no bad luck at all, it was just a storm that gave us some entertainment and let us be.  The storm clouds departed and everything settled down beautifully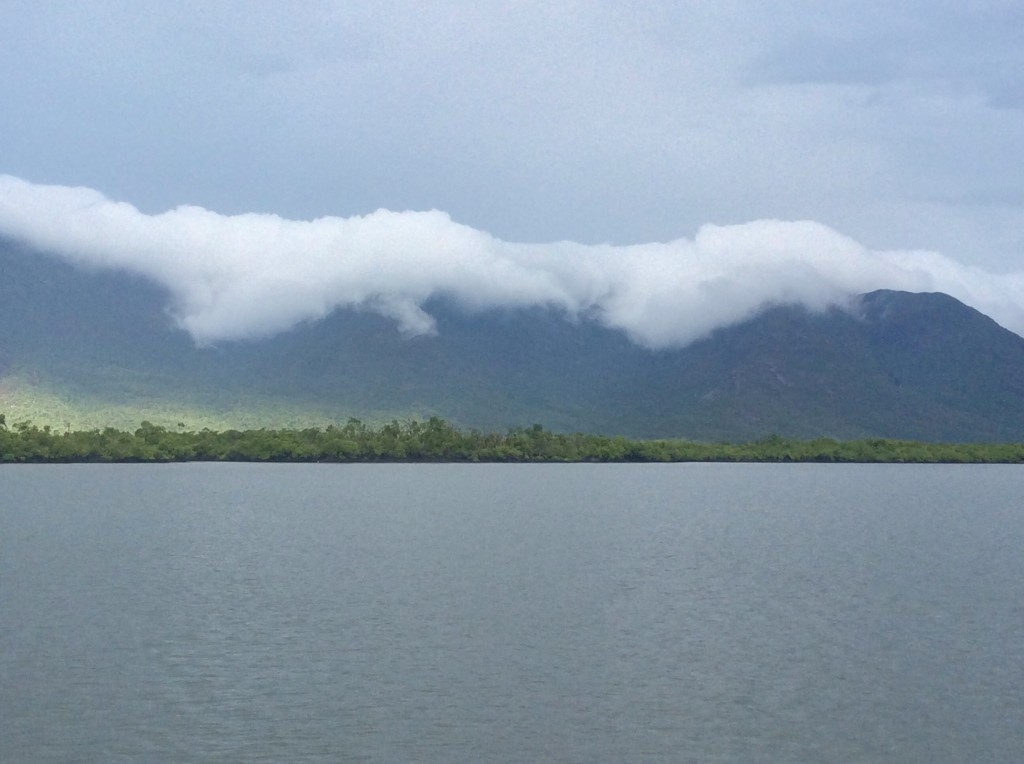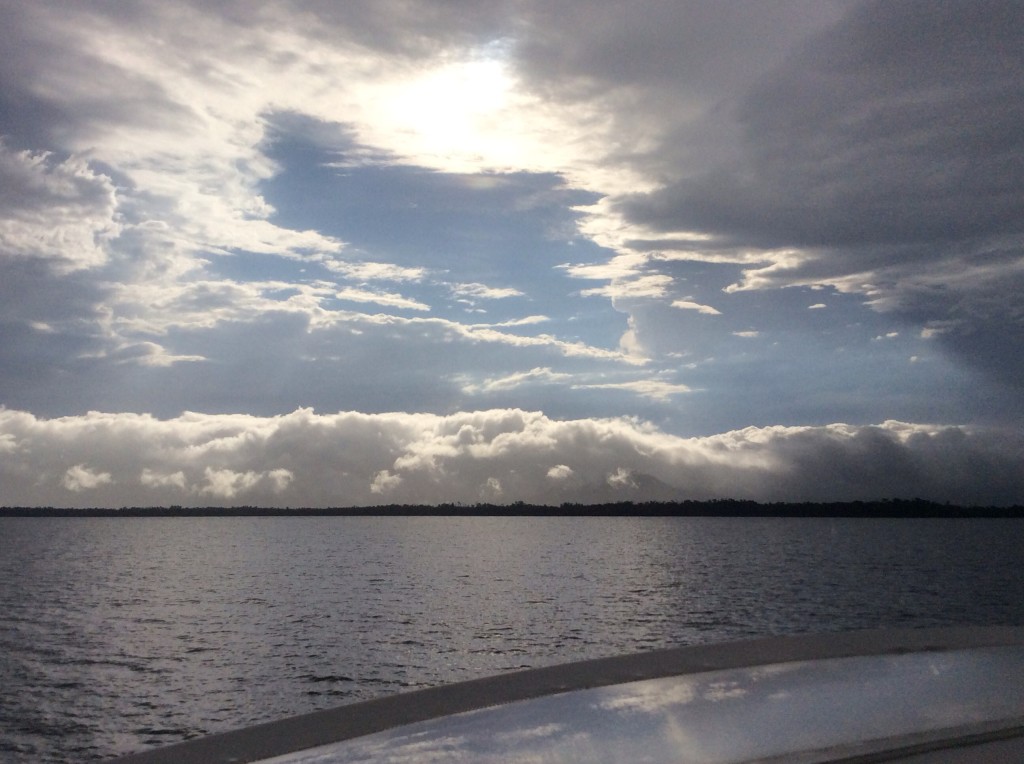 We settled down for a G&T and watched the sun set feeling very lucky, that was until the following morning when we raised anchor and I noticed our chart plotter couldn't tell us out position – our instruments had no idea where we were!
Our GPS antennae had been blown by the lightening……maybe there is something in this "Bananas" and "Fridays" superstition.
Doug is now busy trying to fix it, and not enjoying fitting himself into a tiny lazarett!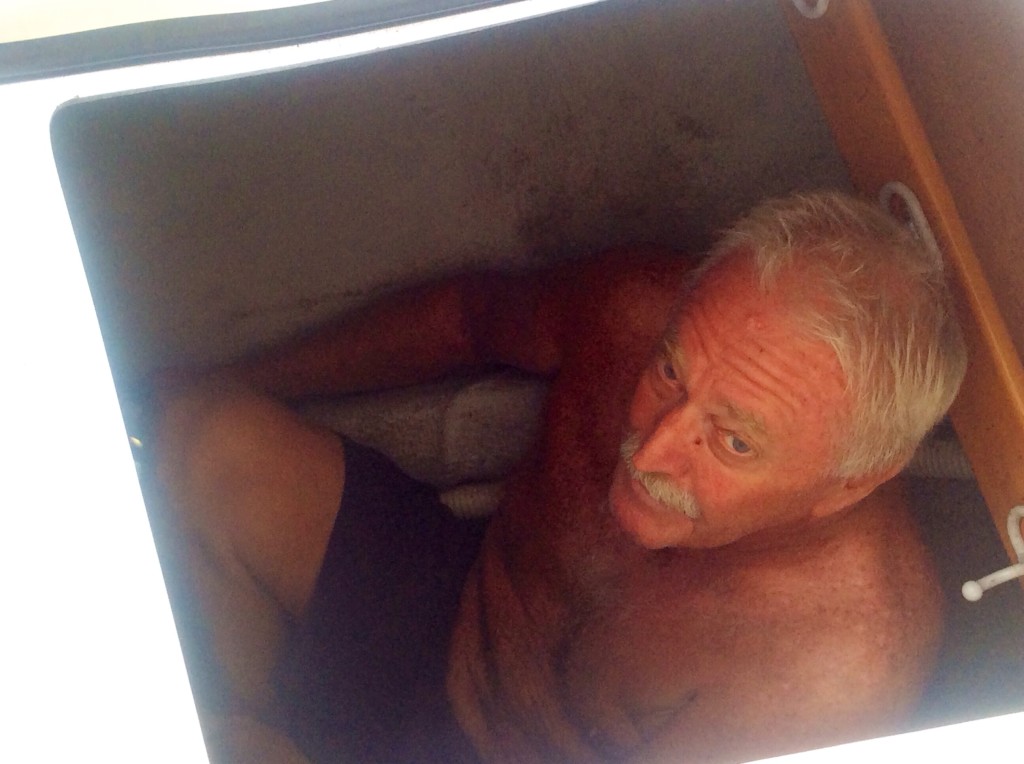 It really is no wonder that superstitions abound when you think of the history of mariners.  Imagine life on a boat many years ago, no weather forecasts, radio or satellite communications, GPS, not even facebook or twitter, just raging seas around after weeks of no sighting of land, its no surprise that superstitions abound!
I know its not wise to throw a banana skin onto a pavement for obvious reasons, but I struggled to see why else it could cause harm to others, but as Ive conducted my research Ive discovered that bananas have long been thought to bring bad luck.  There are tales of ships disappearing between Spain and the Caribbean in the 1700's, where they happened to be carrying a cargo of bananas at the time, and I guess a ship overloaded and spilling its cargo – the bananas would float leaving testament to their curse.  We know that bananas spoil quickly, and that not only do the vapours they emit help other fruit and veg ripen, but they can be noxious too. They also attract deadly snakes spiders and other venemous creatures which can suprise the crew causing them to die suddenly
As for the superstition of not starting a voyage on a Friday – a tricky one this, probably based on Christianity and Jesus being crucified on a Friday. Believe it or not, its a long held belief, so much so, the British navy's attempted to lay that superstition to rest and christened a boat HMS Friday, launching it on a Friday and setting sail on its first voyage, you guessed it – on a Friday – it disappeared over the horizon and was never seen again! A legend of course – but it is in the mind of most saiors!
As for the superstition of not allowing women on board, well, what twaddle. What an excuse for men who make mistakes and blame it on women distracting them from their duties! Women were welcomed on board at the end when sailors who had been at sea for a long time were in port, and many a relationship was consummated on the gun deck – which is where the term "son of a gun" originated!
Curiously, naked women do not draw such superstition (strange that!), as it was thought naked women calmed the seas – which is why many ships had a topless woman bearing her breasts as a figure head on the bow of a ship.  I guess while she is strapped to the front of the ship calming the seas she can't go out buying bananas!
Happy sailing!