We live on such a beautiful planet, and it is wondrous to explore. However, even if you visit every part of every country on the globe, you will miss out on nearly three quarters of it unless you become a scuba diver as more than 70% of this wonderful planet is covered in water. So it was, 8 years ago, I took to the water and did my first PADI course, initially my open water, immediately followed by my Advanced.
I was instantly hooked and have continued to scuba dive whenever I can, completing nearly 300 dives since then in 10 different countries. About 4 years ago I was diving in the Whitsunday Islands, Australia, on a fab livaboard with a company called "Wings"
My instructor/guide asked me why I didnt take my scuba diving to a professional level. I just laughed at him and said, this is recreational diving – for fun and that I already had a profession. Little did I realise, he had planted a little seed in my brain! Then last year came a turning point in my diving when I was on a trip to Turkey – I was on a boat with loads of introductory divers.  A woman was terrified, (doesnt even even get into a pool normally) so wouldnt get off the boat and even snorkel with any of the instructors or DM's – I had a nice chat with her, and she agreed to try it with me.  I gained her confidence and she stepped off the boat into the water with me and swam to the shore. On the way she had a panic attack – I cursed myself for even trying fearing a drowning (I did have a "noodle" handy!) so I tried my well used skills for helping a panicking woman in labour, she calmed down and continued. We reached the shore and  she placed her face in the water and swam back with me to the boat snorkelling!  She was ecstatic! So proud of herself – I got such a buzz out of helping someone achieve it! OK, so she didnt dive, but you get my drift! So I decided to take my diving to a professional level. So it is that I'm in Bali, Indonesia, taking my diving to a professional level.
I have now completed my Dive Master, it has taken me just over 6 weeks and I'm about to start my instructor training. I would like to tell you a little bit about it if you would like to read further. I did plan to go to Egypt and do my professional training with a wonderful dive school called Ocean College  I had enormous help from Jilly Healy, a fab instruct there who gave me loads of information and let me talk it through with her via facebook. Unfortunately, during the planning stage, some idiots decided to bomb a bus of South Korean tourists and threatened to attack other tourists if they did not leave. I decided I wanted to go somewhere a little more politically stable (!!) and knew I was eventually heading to Australia, so Bali was my obvious choice – Crystal Divers came highly recommended. The instructors at Crystal have been fantastic with me. They are so professional and helpful and I am indebted to them for sharing their knowledge and experience
Crystals is a career development centre, which means that as well as being a busy dive centre for people who travel through and want to go fun diving and those who want to start diving, they are also a centre for people who want to train as dive masters and beyond. There are many dive courses you can take, but Dive Master is the first rung on the professional ladder. There are 2 very experienced Dive Masters here at Crystal – you can see Gusde in the previous photo between Lumi and I, Aan is at the top, and here he is again with a photo I love!
Alongside me were 4 other trainees, some of which you have already met if you follow my blog
It isnt a course as such in terms of set dates and times, and people come and go at different times and study at their own pace, some full time like me and others very part time over many many months. The diving is beautiful around Bali, and as well as making new friends on the surface, I've seen many beautiful things under the sea
I even got to dive with my gorgeous daughter who surprised me with a visit!
There is always someone around to talk to, go for dinner with, and we have had some fantastic times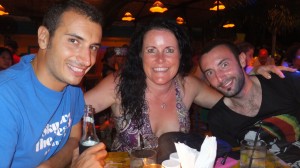 I guess one of the biggest fears I had about my training was the stamina tests – just the title sends shivers down my spine. There were 5 in total, and you get scored between 1-5, and you have to get a minimum of 15 points to pass. I have a big birthday this year (thanks for thinking it was the big 40, you did…..didnt you?) and I was completing these tests with others who were 20-30 years younger than me, so feeling a little under pressure – not from them, but definitely putting the pressure on myself! I started with the 15 minute tread water skill, the final 2 mins being with your hands above your head. I took this very seriously, and at minute 13 clasped my hands, holding them on top of my head which immediately meant I sunk and had to kick even harder. I found it difficult to breathe as I I had closed off my chest by bringing my arms together, I really didnt think I could make it! Elsa told me all I had to do was hold my hands above the level of my head- thanks for that Elsa – I got a score of 5! Next came the 100 metre tired diver tow – I thought this would be easy. But don't forget, I was against the clock here and but for the second 50 metres I made such a noise about it, dragging Roberto around the pool in full scuba gear, nearly drowning him along the way. I made such a  noise that it sounded something that Meg Ryan is famous for! I was glad to finish, and scored a 3 in this. Next came a 400 metre swim, I really don't think I have swam this far without holding onto the side to take a rest, but I managed it, narrowly missing a score of 2, gaining a 1. The 4th skill was equipment exchange – in buddy pairs with only 5 mins to plan – underwater, and using just one single regulator (breathing mouthpiece) between us, we had to swap all our equipment except our clothes (thank goodness for that!), and weight belts. To gain a score of 5 you had to make it look super easy, and Roberto and I approached it in true buddy style and got our top score of 5! Just one stamina test left – and if you have been following you will realise I just needed one point.  This was the 800m swim with mask, snorkel and fins, without using your hands. I got my head down and went for it. Harder than it sounds I will say, but I knew I didnt have to break any Olympic records here, just finish in my own good time to get a 1. I was delighted to gain a score of 3 – yay! There have been many other skills to complete, including surveying a dive site and making an underwater map.
We have also had to demonstrate we can rescue non-breathing divers (as we had to in our rescue diver course before we started this), show how to set up a dive trip, including safety for a deep dive (setting drop tanks at 5 metres for example), demonstrate our knot skills, give dive briefings, lead dives, demonstrate set up search and recovery skills. Of course, we also have to show we can demonstrate the diver skills people learn on their initial open water skills – doing each skill in a slow deliberate manner in true "Thunderbirds" style.
That just leaves the theory, culminating on my last day of being a DMT in 2 exams. On the morning, I opened my manual and felt that al the knowledge had evaporated so I approached the exam tentatively as there is a 75% pass mark. Ive found that my confidence level has varied so much during my training, not sure why, just being a mature student I guess? I neednt have worried, I gained 92% and 95%, I was now a Dive Master. This just left one more challenge – the shot challenge. Lumi had set the limit at 8 shots (each taken with one of the instructors). Roberto and I started and finished our DM together so it was fitting that we took this challenge together too. I managed to set a new record of 14, not something I'm sure I should be proud of!
My life in Bali has existed within a little bubble and I'm rarely alone, having finished my DM, I decided I needed some time alone, so I decided to take myself back to Gilli Air.  I also wanted to prepare myself for the instructor training which starts very soon. This is a very intense course, culminating in 3 days of exams, I wanted to be prepared and make my way through the work book and get my knowledge level up to scratch. I spent good quality time studying on Gilli Air, a piece of tropical paradise! It wasn't easy sitting there with my broken heart watching all the couples romantically snuggling up together, but I got through it somehow – treated myself during the evenings to cocktails as I watched the sun set a blistering red and the new moon rising! I decided that all work and no play leaves Jill a dull lass. I also felt that I couldnt be there without seeing what the diving was like, so popped into the water and had a spectacular dive with Oceans 5 seeing 3 sharks, one of them pregnant, 2 turtles, numerous nudibrahchs, moray, scorpian fish, bat fish etc etc etc. It was nice being a guest and being looked after by another dive master I must say! Im now back in Sanur, and about to start my instructor training in the morning. I finished off my respite with a spot of relaxation in a raft
Once I have finished all my dive training, I am heading to Oz.  I have been looking at flights, they are so expensive……but hang on, why fly there when I can sail to Australia……….another adventure coming up!