Here I am, a lucky lady on another adventure! I am 6 weeks into this particular adventure, and have so much to tell! I will start by writing a general blog outlining my travels, then write further with specifics, I don't want to bore you after all. I try to keep my blogs as long to read as it takes you to drink cup of tea! So, fix yourself a drink, sit down and let me regale you will tales from the sea!
One bright morning when I was living in Bali, as I thought about finishing my dive training, I researched flights for my return flight to Australia, then remembered the words I had uttered before I left – "If it doesnt work out for me back in the UK, I will sail back to Australia". This sent my mind racing, so I revisited a website I had used previously, called findacrew.net. It's a bit like a dating site, in that it matches people who have boats and need crew with those who want to crew but sadly don't have a boat!
I joined this site 2 years ago when I first lived in Australia, popped on a profile one evening, a few pictures, details about myself and my sailing and diving experience. The next morning, I checked to find I had 16 contacts. Within a month, I had over 50, and to date, have had 94 requests from boat owners around the world who asked me if I would like to join them – they range from some who wanted me to pay a fee to sail with them, those who want me to share costs, to those with commercial boats who wanted me to come work for them. To me, it was like a sweetie shop is to a child!
Through this site, I went sailing for 6 weeks in the Windward Islands (Caribbean) late 2012 and again in Turkey last year, and here I am again in Indonesia on a beautiful boat.
Again, people tell me I'm lucky, or how on earth can I afford it. Well, I'm not a rich woman (not in the financial sense anyway), I'm have worked hard all my life caring for others. When I lived in the UK, I wanted to change the cycle of working and living for days off and holidays, so I opened up my house, and lived with strangers, renting rooms out to save some money to help me do this
My home is now rented out completely, therefore paying for itself, and making me a very small income, I have no car, therefore no running costs, I spend very little on clothes, shoes, cosmetics, and only visit the hairdressers once a year. Here on the boat my only cost is my contribution towards food. My overheads are small, G&T's excepting!
So when you think you would love to do this but can't afford it, take another look and see if you can't work something out yourself too! If you want to do something similar but think you cant afford to do, look at how much you are paying each month for things like a car loan, petrol, servicing, MOT, tax, insurance, rent, electricity, gas, rates, glad rags to wear and money in your pocket to hit the town on a weekend to get drunk to try to forget the awful week you have just had at work……? Still think you cant do it?
Anyway…….having completed my Dive Instructor training, I flew to Kuala Lumpur and took a bus north to join Daryl on his lovely boat Cool Bananas.
Daryl is a really cool guy, he is a cross between a cuddly teddy bear and Captain Birds Eye with a twinkle in his eye, a happy go lucky attitude to life and many a good story to tell. He is a Kiwi, giving me lots of scope to tease him about his accent (he says it is I who has the accent not him!) He has owned this beautiful boat for about 8 years, sailed to 35 countries, thousands of miles in his beautiful 50ft 8 berth catamaran, and now I am crewing for him. He has given me the opportunity to be able to enjoy time on a boat, visit places I couldn't see without it and gain valuable sailing experience along the way. In return, I help him sail the boat, take share of watches, drop and raise the anchor, sort the sails, be a dive buddy, share in the excitement of discovering new places, act as a companion, cook nice nutritious meals, and spend many hours listening to his many stories!
Here is "Cool Bananas" my home for the next 4 months or so!
Daryl's intention is to move the boat from its storage in Malaysia and bring it near to his home to New Zealand to be able to enjoy the boat with his family and friends. This does mean we are traveling in the wrong direction in terms of prevailing winds and currents and makes the journey a bit more of a challenge, it really would be so much easier travelling in the opposite direction.
The journey takes us from the North of Malaysia, down through the Mallaca Strait, which runs between Malaysia and Sumatra, past Singapore, down to Indonesia landing at Bellitung, continuing to Jakarta, then along the coast of Java, towards Bali, Lombok, Komodo, Flores, Timor, then, winds depending, decide which point eastwards best suits our trip south to land in Australia at Darwin. Thereon continue around the North East Coast of Australia, through the Torres Strait, and down the beautiful Great Barrier Reef. My trip is to finish when we land at the Sunshine Coast, at Mooloolaba.
Daryl gave me such a warm welcome to his boat, its such a hospitable thing, the boat is your home and you are inviting a complete stranger to come and live with you, in very close quarters, so it is important to get the right person. Daryl spotted my profile on findacrew, he has told me that he saw my energy and enthusiasm in my profile and he knew he wanted me on his boat. He got in contact and we shared numerous emails where I asked countless questions and he asked none. He had found my blog which told him enough about me, and he patiently answered all my queries.
He welcomed me into his home and even put up my special dragon!
Although I had already spent 90 days in Indonesia, as I was now in Malaysia, I needed another 60 day visa to travel back there once more. We journeyed North to Georgetown to arrange a visa, having a day trip, and meeting some strange people along the way as you can see above…
We have had many interesting moments on the boat, and seen some amazing coastline, observed numerous and varied craft and dodged many hazards along the way (I found this so interesting, I will make it the subject of its own blog!)
The day takes on a pretty routine pattern, waking as the sun rises, raising the anchor and moving along, eating when we are hungry, arriving at our destination, dropping anchor once more and watching the sun go down with a Gin and Tonic!
We have stopped at so many beautiful anchorages
We spend time reading, chatting, playing cards and watching films on the laptop (I'm getting into Game of Thrones – reached Series 2 now!). So far we have been on a bit of a mission to move the boat along as we want to spend more time exploring and diving along Komodo and Flores, so its been a bit like a boat delivery really. Long days and sleeping when we can, but we are about to take a break in Bali while we sort out a few troubles with the boat.
I learnt to sail three years ago as I circumnavigated Britain, and got myself sailing qualifications, but I don't feel anywhere near ready to captain a boat by myself. Like most things in life, its OK when things are going well, but it is the ability to manage the unexpected that sets us apart and tests our knowledge and skills. Just like when the traveller popped out and rendered our main sail useless. Daryl is fixing it himself, he is so clever and can turn his hand to most things (except trimming his beard!!)
A knowledge of diesel engines is important too. Ive actually completed a diesel engine maintenance course during my Round Britain Experience, it was a bit of a struggle for me, Im not a natural, and I definitely wasnt top of the class as I was at First Aid. Its as important though, and I am trying, I really am!
I think you have to spend some time cruising to appreciate that its not all fun along the way. Many hours are spent trying to make our way, sometimes in the middle of the night when our bodies and minds are aching for our beds. Some anchorages are noisy, with swells, waves bashing on the hull, nearby mosques with an early and very loud call to prayer. We have to seek food when we can, no supermarket delivery service. We have to take care with our water usage, showering only when necessary, and making them quick, often leaving the hair matted for another day. We collect rainwater when we can to help replenish the tanks and keep it going for a bit longer.
As we are battling against wind and currents, we have to use the engines for more than we would like, so we have to think about our fuel too, and have to go to the most unlikely places searching for it. Here is Daryl coming back to the boat having purchased some diesel from an unlikely source near Surabaya.
We mostly anchor along the way, it keeps things flexible for us, its usually far more beautiful, and far cheaper as its free! Its a lovely feeling at a safe anchorage, away from the beaten track, and we enjoy spending time before sleep star gazing and seeing who can spot the most shoots stars (I win that one!)
We have stayed on a two very nice marinas, the first one in Port Dickson as well as Batavia marina in Jakarta, splendid surroundings, absolutely gorgeous.
A highlight of the journey was crossing the equator. Ive done this several times in an aeroplane, but it feels so different doing it in a boat. Unfortunately, the line you see on maps just wasnt there on the sea, and we had to rely on the GPS to tell us, and we slowly moved forward to be able to take the photo of the actual point of Latitude Zero.
Daryl, with his great sense of fun wanted us to don fancy dress for the occasion, a bit tricky coming up with something when you have no access to ebay, so this is what we came up with!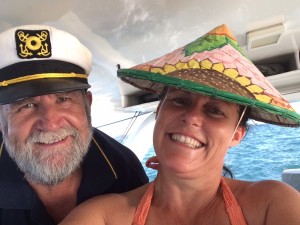 Of course, it was time for celebration!
Along the way, we try to get network when we can, but mostly we are not in contact with the outside world. This can be frustrating at times, but often it gives you a real sense of freedom! As you start to approach a coastline a little bit of network allows a message to slip through. Any mother who gets a message "Mum, can I ring you, I need to speak with you" instantly thinks the worst, and the mind races through a million and one potential catastrophes. It was not to be, my gorgeous eldest child had some wonderful news to share!
As I write this, we are sailing down the East coast of Bali, having now sailed over 1400 nautical miles from the North of Malaysia. I am going to spend a couple of days catching up with my friends I met whilst I was living in Sanur, I feel like I'm coming home again. Ive got a bit of a big birthday with a big fat zero on the end and hoping my friends will be convinced I really am only 35!
I have loved my time in Indonesia, it is such a beautiful country with such fabulous people, I have so much to tell you about. I want to tell you about the people, the landscape, the diving, the fishing craft, the hazards we meet along the way, oh, and have I mentioned we popped to Borneo to see Orangutans……..more blogs to come, keep watching and have the kettle ready!