So here I am – finally made it to Bali feeling tired but very excited.
My lift had arrived and I was taken to my digs for the next 3 months.  I told myself not to be disappointed in my accommodation, to expect little out of the facilities offered and I had prepared well!
My courier did not speak on the journey, I was dropped off with my luggage, no idea where I was in relation to my new dive college, no currency in my purse, no water, jet lagged, sweaty and still smelling mildly of vomit (cheers young Thomas my fellow passenger!). It was nearly 11pm and I wondered what the hell I was doing coming across the world, a woman of my age trying to embark on new adventures!
I quickly asked the driver what time I needed to be ready in the morning as I was told my dive master course would start – he replied 7am, here.
I went into my room, decided instantly that I would ask for somewhere else tomorrow, and tried to clean myself in the trickle of cold water which emanated from the shower. No wifi to let my family and friends know I was safe – so I tip toed out until I found some. Now midnight, I decided I needed to sleep.
I fell into a deep, luxuriating sleep at 00:30, much needed rest after my journey – and my body decided at 02:30 it had quite enough of a nap and it was now party time! I tossed and turned until just after 5 when I fell back to sleep again – to be woken by my alarm at 06:30 – arrrgh.
I was always a good girl at school, and so it was, I was ready with all my gear outside my digs as asked at 7am – I looked like poo, but I was going to be a good student – I even had a pencil case at the ready for my studies.
7.15 came and I felt uneasy about this as I stood on the side of the street with taxis continually beeping for my custom as they passed.  I decided to try to find the dive centre myself – and was amazed to find it was only 0.2 miles away – they must surely be waiting for me! Nope!
Thats when I met Sonya
Sonya is new to diving, but has quickly got the bug and is already half way through her dive master course.  She is from Darwin and is so friendly and relaxed.  She told me how to get breakfast and where the ATM was. I hurried off – tried 4 different machines who obviously didnt want to communicate with Barclays – I was still penniless. Sonya shouted me breakfast (thank you Sonya – I will always remember you!)
When staff members finally arrived, I asked where they wanted me – to be told my dive master was starting on Saturday and I had 2 days rest before it began! If only my alarm had known that!
Back to my room and try to snooze – a solid 3 hours sleep and my body still on UK time!
I emerged in the afternoon a little jaded, unsure what to do, where to go and how on earth I would feed myself with no cash – ready with laptop to find reliable wifi to Skype Barclays, I tried one more time at an ATM – result! It allowed me to take out the maximum possible for that transaction – 3 million Indonesian Rupiah – wads of cash came out  – all 100,000 notes – I felt rich! (each one worth just under £6!) I could eat!
I hung around the dive school, everyone seemed to know everyone else except for me and I felt a little lost.  Then I remembered my daughters words – you will make friends straight away.  Along came a lovely lass from Finland called Loumie
She is also training as a dive master, she is funny, speaks excellent English, is 18 years of age and knows how to seek out a cheap meal! Firstly, she helped me move rooms – I am now in the best room in the complex and have my own balcony
and little garden right by my veranda (as well as air con, hot water should I need it, and somewhere to put my things on!)
Time now to find food. Its hideously cheap to eat here in Bali, particularly if you get off the beaten track.  We were enticed into numerous restaurants along the way and anything which cost more than £3 for a meal was instantly dismissed by Loumie.  We met a guy along the way, similar age to myself (21!) who told us he lived there and advised us to eat at the place he was, saying you can get a good fill and its only 10 bucks! Loumie just laughed and continued until we found this little place
We had fried chicken,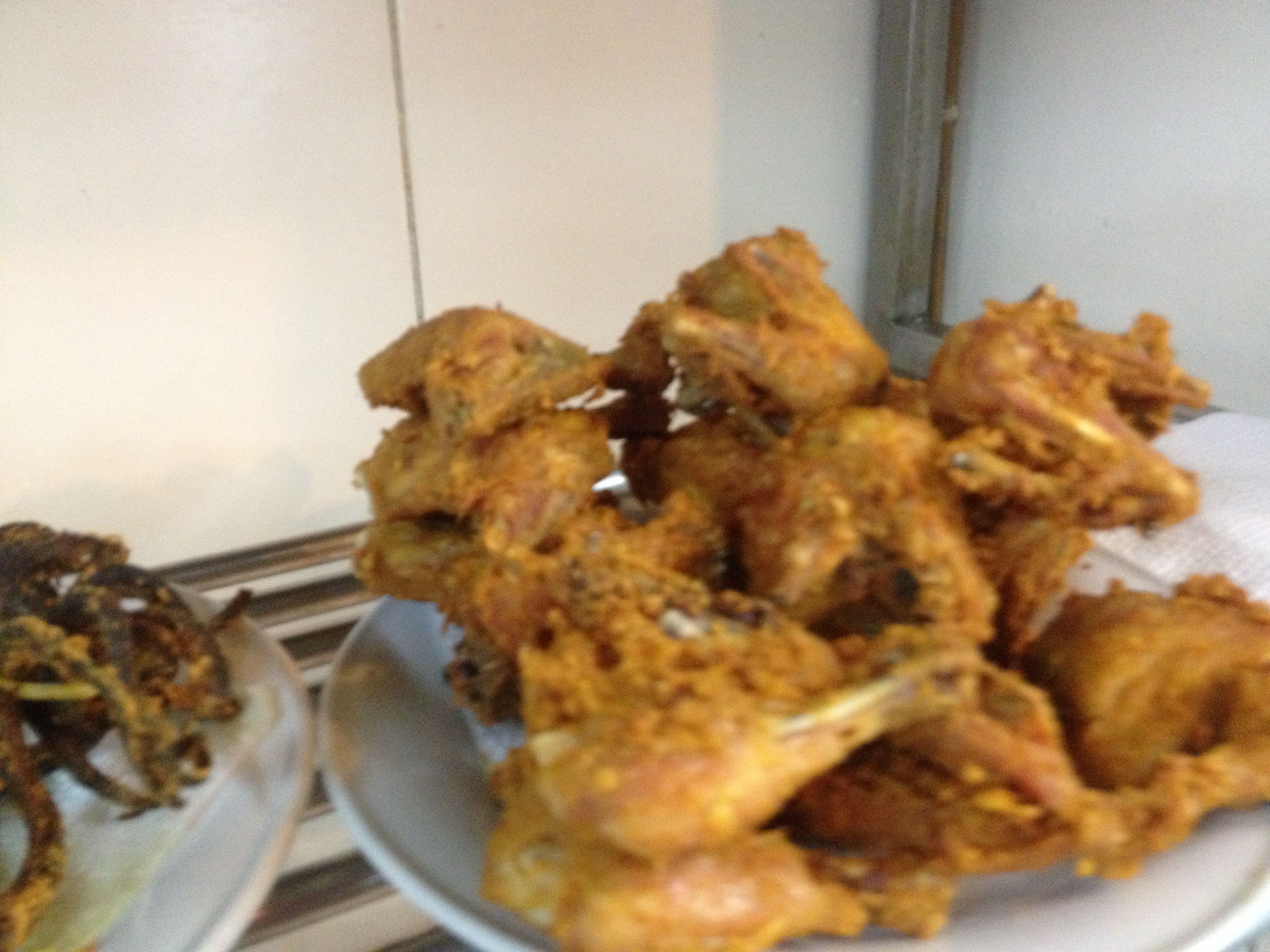 numerous vegetables, some of which I could recognise, with a chilli sauce over the top. She had water, I had a beer (which someone quickly ran out to buy) and I decided to treat Loumie for helping me move – so generous as the whole meal cost just £2.76 for both of us including drinks!
We wiled away the evening, bit of shopping, drinking and socialising, and I decided tonight was the night to get some proper sleep! So at midnight, I feel into a delicious sleep – that was until 3am when again it was party time! I fought it for an hour then decided enough was enough, and got up.
I had got myself organised and bought a cute little hot water maker so I was able to make myself a cup of earl grey, and thought that it was a good time to defrost the refrigerator in my room and chat to my buddies in the UK time where it was late evening and they were soon to settle down to sleep. At 6am I decided to do just that and get a couple of hours to take me through – earplugs and eye mask at the ready – again I fell into a deep sleep. I woke thinking I had slept well and it must be around 9 to discover I had been asleep for a solid 7 hours and it was gone 1 in the afternoon – I felt like such a teenager – but knew I was just still on UK time as it was 6am there and getting up time! Its 7 hours ahead here, but my body seems firmly fixed on UK time – damn you jet lag!
Feeling a little disorientated, homesick I took a look at the weather back home as everyone seemed to be raving about it on Facebook back in the UK
I could see why they were thrilled. Then I took a look at mine
That made me feel better.
So, Ive stayed awake all day, Ive been shopping to buy a few of lifes little luxuries to make me feel at home – a fan and extension lead so I can use it on my verandah, cutlery, sharp knife, plate, bowl, nice food nibbles.
Ive spent some time keeping an eye on Severe Cyclone Ita as it threatens the coast of Far North Queensland – where my baby girl is – seems she is safe and having fun (when does the worrying as a mum stop?)
Its now 9.30 as I type this, Im sat on my little verandah. Im sipping a nice cool G&T (albeit illegal!) complete with ice made in my defrosted fridge.
Im nibbling on a little treat my Chinese friend gave me, having no idea what Im eating, but think it could be something to do with beef as he explained to me on the plane using his hands as horns on his head!
Its now midnight and Im trying to convince my body clock  it is "night time" rather than "nap before partying time"!
Tomorrow I start my dive master course (at 11am!) – life is good!