We finally made it!  Here we are in Townsville, Australia!
What a journey we had, Birmingham to Townsville- and it only took 28 hours!  We felt surprisingly  fresh when we were greeted by a representative from the hospital with a sign held up with both our names on!  I felt like a business executive!
It was a smooth journey if you forget the security alerts we both generated along the way!  I mentioned on my last blog about the first one Francesca created at Birmingham but I created one the other end!
We had scoffed at the government video which was shown on the plane shortly before arrival warning us about strict penalties for people bringing food and animal products into the country – and the film showed a woman being caught with an apple, which, on this video, seemed tantamount to bringing a kilo of heroin into the country!
So, as we cleared security at Brisbane airport, along came this cute little dog on a leash with a security guard urging us to carry on walking, we had seen dozens of people do just that as we had been standing in the long line for passport control, so on our turn, we felt quite relaxed.  However, this cute little dog suddenly took alot of interest in me and I was ordered to stand to one side in a marked area in the middle of the concourse, where the other hundreds of arrivals could see!
Having travelled so far, I was feeling a little wiffy, and in desperate need for a change of clothes and a shower so its not a great feeling when a sniffer dog comes along and takes a specific interest in you, but I guessed all the other entrants would have the same pheromones as me!
I put on my saddest face as I looked over at a security guard and asked how long it would be as I had a connecting domestic flight in little over an hour and was scared I would miss it.  She responded sternly "you just have to wait!"
A few more minutes passed, with my sad face finally winning her over she came and checked me out.  She asked if I was carrying any foodstuff, my sad face instantly turned angelic as I denied carrying anything that may contravene their strict laws.  My shawl was strapped onto the front of my day pack, and I mentioned I had that around me whilst eating on the plane.  She seemed satisfied with that and let me go without even opening my bag!
It was only on the flight from Brisbane to Townsville that I found the culprit – a small chocolate bar hidden away for emergencies – something John Varty had bought for me during our Round Britain Experience in Scotland – cheers John!  I quickly ate it just in case my small bar of  bournville causes another security alert!
Such relief getting into Townsville, I took a deep breath and held it as I asked Francesca if I had done good in choosing this to be our home – she took one look around and gave a resounding 'yes''!
Our apartment is right by the river, backing onto lots of trees, loads of eucalyptus, and it feels like tropical Australia!  It has 2 bedrooms, one is ensuite, a large kitchen, living area with a settee and 2 reclining chairs – one each for me and Ces – we call them Joey and Chandlers!
My boxes were here when we arrived,
and it has been great unloading things I packed away back in June (thanks for your help with that Mychelle!) and to quickly make the place feel homely and ours!
Right next to our apartment is a small pool which we quickly made use of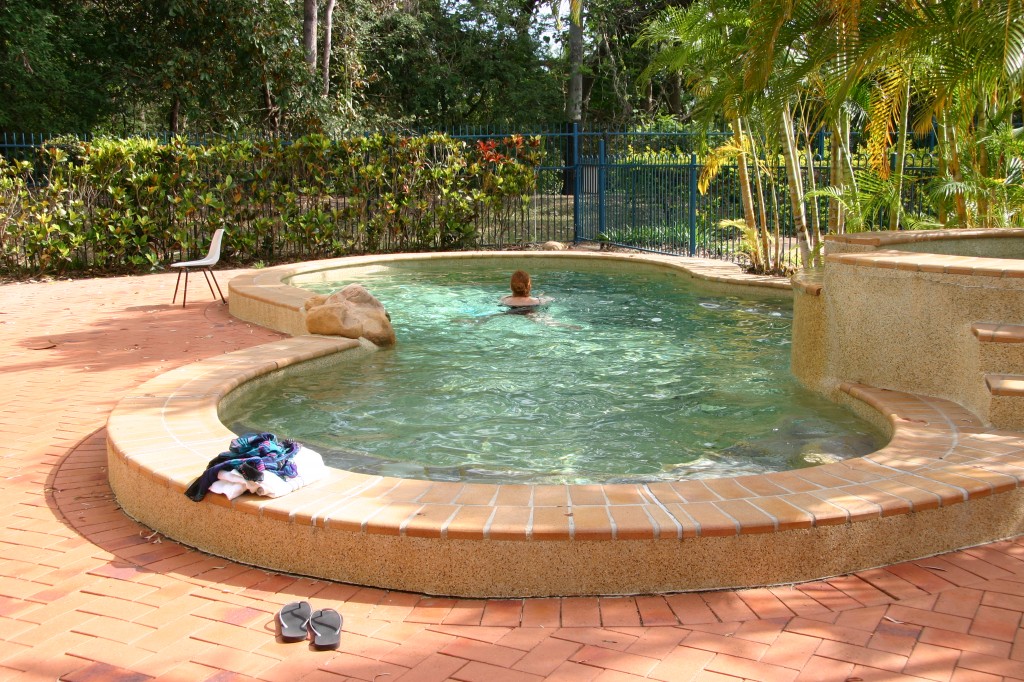 A quick snooze followed by our 1st initiative test – trying to catch a bus to the local shopping centre – we failed!  We stood the wrong side of the road to catch the one bus going there that hour, so, pretending it didnt really matter, we took a stroll instead and found a bar where we had a "scooner" of beer!
Next was a "Bottle O" (we know these as off licences) so bought some Aussie red, and some tonic to go with our duty free purchase!
Our apartment is next to the river, so we decided to follow this back and try to be clever finding our apartment that way – with success I'm glad to say.  However, along the way, the scooner of beer and the fact my body was quickly trying to excrete the retained fluid from the long haul flight meant I quickly needed to wee – so I crept into the undergrowth – or the bush as they call it and squatted down to do the business.  It was only when my bottom was close to the ground above the scattering of twigs and leaves that I thought about the brown snake (not a euphemism guys!) and realised that relieving yourself in the bush (again no euphemism!) is not the same as doing it in the peak district (yet again – no euphemism!)  I really ought to be more careful!
Exhausted by our first day, we sat in our Joey/Chandler chairs, drank aussie red wine and ate our dial a pizza before crashing into the bed.
I went to sleep at 22.15 and when I woke, I was so happy that I had slept so well, but realised it was only 22.30.  It turns out that exactly the same thing happened to Francesca!
Our 1st full day in Australia was very full indeed!  Awake at 5.15 and Ces at 6, we sat on our patio and enjoyed our cups of tea and our buttered toast listening to the cries of the various, yet to be identified birds.
Francesca then saw some movement in the bush, to which I responded was probably someone walking their dog, to discover it was a wallaby!
Delighted by this, we treated ourselves to another cuppa and some toast with vegemite
whereupon several bush turkey came walking by, and squeezed themselves through the fence to make our acquaintance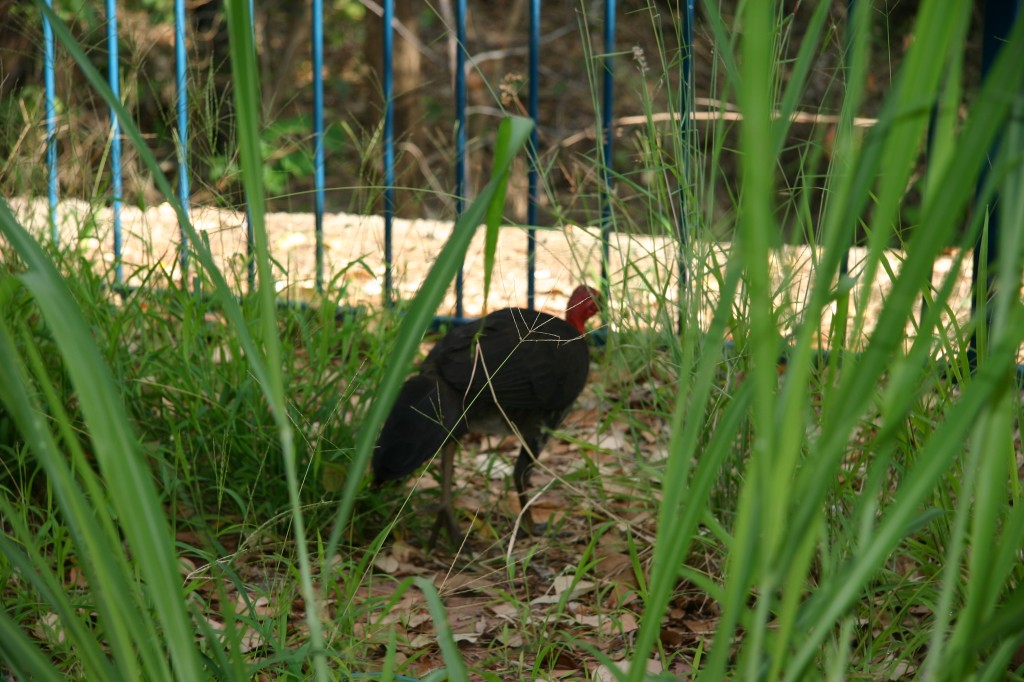 We were picked up at 10am and taken to the hospital.  I completed all my signing in paperwork, got a photo ID, security swipe, registered for my tax file number, sorted out uniforms (photos to come later!) and sorted out my shifts for the next fortnight.
I am completely new to Australia and, although I know babies come out the same way as they do in the Northern Hemisphere, the systems, and I imagine the rules are a little different, not to mention the computer systems.  So, imagine my suprise to find I am only supernumary (not counted in the numbers) for only 3 short shifts!  Good job I'm a confident midwife!
We were dropped off into the nearest shopping centre following this with a long list of important things to do.  The first was to open a bank account, as need this to be paid and we were looked after by a lovely lady called Amy.  Not only did we manage to open our accounts, but we got advise on renting houses and an offer to use her car for the next fortnight as she was going on holiday – we love this place!
Next priority was to sort our health care, so we successfully registered with medicare, then headed to our next important task – sorting an aussie phone and some internet!  This took quite some time as we are brand new to this country, and a credit check was needed.  We needed more aussie ID to get the "points" needed.  We were about to be rejected until we got a Queensland drivers license when I thought about my new work ID – and as it is "Queensland Government" this worked a treat!  I also get higher interest rates on my bank account as I'm a Government employee!
Strange, but I never thought about myself as working for the government when I worked in the NHS, but that is what we are!
We shopped in our local supermarket – "Woolworths" (Honest!) then headed out of the shopping centre – it was now dark, and I worried that I hadnt brought a jacket and would be cold when we got outside.  Silly me, it only felt cold with the air con, and I had quite forgotten we had moved to the tropics, as we headed outside, the heat of the evening warmed us beautifully!  We tried once more to catch a bus home – to find 7pm was far too late to be able to use public transport!!  A car is the only option living here!
Anyway, we now have internet, food in our fridge and wine to drink, the world is a good place once more!
I snuggled down in bed for the night, to hear a knock on my door – Francesca had found a "huge bug" in the bathroom and could I please come and rescue her!  She illustrated using her hands, and I expected a rat sized creature, to discover a 3cm beatle.
Unhappy to leave it overnight, I zapped it with the insect spray kindly left for us at the apartment and returned to my bed feeling very guilty for killing one of gods creatures on my first day in Australia! I have a feeling this may be a regular thing!
Time to sleep once more, something my body had been asking for most of the day, ready to start another adventure tomorrow!